Airport in New York City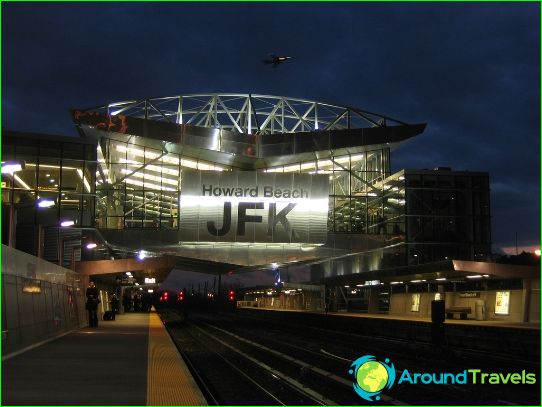 The largest international airport in New YorkIt bears the name of the thirty-fifth President of the United States - John F. Kennedy and is located in the south-east of the city, in the borough of Queens. In terms of passenger traffic the airport takes 17 place in the world: a year pass through it more than forty-five million visitors. The city is connected to the airport and well-developed transport infrastructure: high-speed rail line combines AirTrain terminal and two metro stations, several bus lines, equipped with lifts for the disabled. In addition, there is a fixed fee for a taxi, when traveling from the airport to Manhattan District - forty-five dollars, but when you travel in the reverse direction will be charged on the meter. But the fastest way to the airport is a helicopter flight, flying every hour from the area of ​​Wall Street. Eight minutes of flight and safety control passage at the stage of landing on Wall Street, avoiding the queues at the airport, cost $ 160.
Airport in New York, offers a wide range ofguest services and passenger terminal, including wireless internet access Wi-Fi, with the possibility of payment for the different billing plans, advanced parking system for each terminal, where you can pre-book yourself a parking space online, exchange offices, excursion kiosks and stalls with typographic production. The terminals in the area before and after the passage of the customs control are located branches of various international fast food chains, as well as restaurants and coffee shops, such as Starbucks and McDonalds. In addition, the terminal, visitors can buy everything you need in a variety of stores and boutiques, both before check-in, and after, in the halls of the terminals.
For families with children in each airport terminalKennedy opened the room mother and child, where there is everything necessary to ensure compliance regime - areas with cots for sleeping, as well as a games room, where small passengers can have fun and spend the waiting time is not noticeable.
In addition, the airport in New York, gladgive its guests the best car rental companies, whose representatives are located in each of the terminals, in order to make the path of the passengers the most enjoyable.
Photos Airport New York