Christmas in New York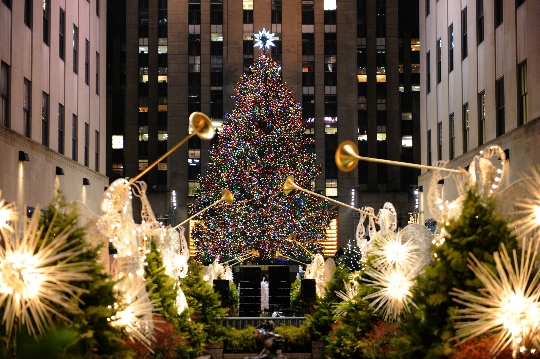 Such a holiday like Christmas in New Yorkbegin to prepare in advance, dressing the Christmas tree, decorating the house with candles, sparkling garlands, figures of angels, animals and Santa Claus, windows and doors - with wreaths of fir and pine trees, courtyards - ribbons, balls and colored flashlights, skyscrapers - festive illuminations.
Features of the celebration of Christmas in New York
In the night from 24 to 25 December, many are sent toChristmas Mass, then to celebrate the holiday with your family. Gala dinner is complete without a Christmas goose or turkey. Also on the table are exposed salads, ham, a variety of wine and drink eggnog (for cooking uses sugar, eggs, whipped cream, cinnamon and nutmeg, and drink intended for adults, add alcohol as rum, brandy or whiskey).
Noting Christmas in the local restaurants, you can expect that you will be treated to sausages, flavored with garlic; soup with beans and cabbage; fish; potato cake with cheese.
Entertainment and festivities in New York City
Who will be able to skate carryconceived in Central Park, Bryant Park and Rockefeller Center (then also installed the main Christmas tree). If desired, you can visit the Christmas Spectacular show at the Concert Hall Radio City: the main character of the show is a Santa Claus, telling visitors the history of Christmas (after the show you can take a picture with Santa in the lobby of the building).
Be sure to look into the Botanical Garden,where is arranged an exhibition "Holiday Train" from November 20 to January 9: here you can admire the tiny houses, created from natural materials in the form of leaves, dried fruit, nuts, bark. And, you can visit the play "The Nutcracker" at the American Ballet Theatre (it is advisable to take care of tickets in advance).
Do not miss your attention 3-hour visit"Holiday Lights Dyker Heights" tour. During the bus tour participants will enjoy Christmas songs and will make a lot of photos on the memory (while stopped they will wait for a treat in the form of Italian desserts and hot chocolate).
Christmas markets and sales in New York
During the holidays, you can expect to receive amazing discounts and taking part in competitions are regularly held in New York stores and shopping centers.
In addition, it is recommended to visit the Christmasmarkets. The venue: GrandCentralTerminal; Bryant Park; Union Square; ColumbusCircle. There you will be able to be bought knitted scarves and hats, cozy sweaters with reindeer, ceramic dishes (choosing unique gifts offered to warm up with hot chocolate).
Photo