Entertainment in New York City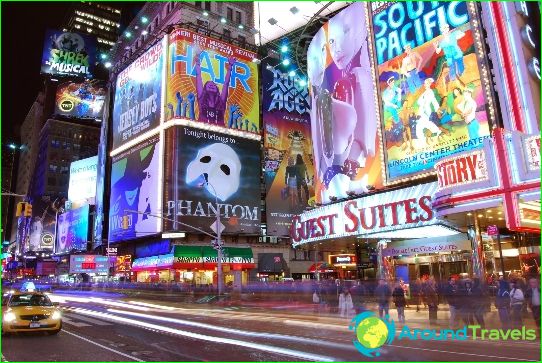 Entertainment in New York, will delight lovers of night life: the services offered by this city - pubs, clubs, sports bars, live music ...
Amusement parks in New York City
"Deno's Wonder Wheel Park": Children then created about 20 rides - they can feel like a truck driver or captain, as well as a ride on a "flying elephant", and adults - to admire the panorama of the city from the Ferris Wheel Wonder Wheel. In addition, the whole family is there to spend time visiting room of horrors "Spook-A-Rama" or riding on bumper machines.
"Adventureland": here you can ride on a roller coaster and other no less extreme rides, and play on the slot machines.
What kind of entertainment in New York?
Do you like to walk on night establishments? Look to the clubs "Urge Lounge" (here regularly hosts parties, music concerts and dance performances) and "Copacabana" (here lovers of incendiary dances under Latin American music).
Dreaming of unusual entertainment? Be sure to schedule a tour of the underground New York. For example, you will be able to go on an organized tour of the old tunnel Atlantic Avenue Tunnel (it was built in 1844).
If you want to see 50,000 garments andaccessories from the XVIII century to the present day, look in the Fashion Museum "Fit": in addition to the examination of the museum's collection, you will be able to attend the lectures and participate in the "trendy conversations."
Activities for Children in New York
Laboratory "Sony Wonder": learn a lot about new technologies by children will be able to immediately dynamic game. Using simulations of surgeries and touch the walls, robot control, creating your own music mixes and animated short film (his creation can be picked up as a souvenir) ... In this laboratory is possible.
Ocean Aquarium "Long Island": young visitors are allowed to play with the sea lions and penguins, as well as to look at the show, in which the main role played by a sea lion. As for the adult visitors, they can offer scuba diving with sharks or mountaineering (there are specially-equipped wall).
Zoo "Bronx zoo": here your child will be delighted by the diversity of the animal world (about 6,000 animals living at the zoo). At the zoo you can ride on a carriage on a monorail, observe the gorillas in "gorillovom forest", to look into the Butterfly Garden.
Numerous entertainment in New York Cityshall guarantee to every traveler an unforgettable stay. For example, you can go to an evening cruise on the Hudson, to fly over the city in the framework of a helicopter tour and enjoy the best Broadway shows and musicals.
Photo