Metro New York: map, photos, description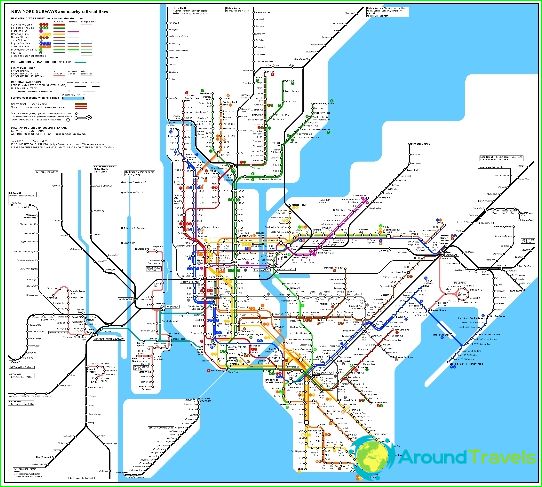 Metro map of New York
Despite the fact that nearly half of waysNew York's subway is located on the surface, the Americans call the New York metro "subway". Today the New York City subway is one of the oldest and largest metro in the world. Its annual passenger traffic approaching the Two Billionth mark.
Due to the movement of trainscarried out in several directions, the New York metro is not closed to a technical break and is open 24 hours a day, 365 days a year. For the same reasons, the same route can walk conventional train, stopping at each station and the express train. For the convenience of passengers, they have different platforms and color of the sign denoting the route (express trains have red marks).

Lines and Metro New York
The total number of stations of the New York subway (direct to the stations) - 468, the number of lines - 24 tracks length - 1355 km (of which 1056 km is used for the carriage of passengers).
The first subway line in New York was opened in 1904year. However, its forerunner - the elevated city rail cable steering appeared in 1868. After three years, the locomotives appeared, and by 1890 the first electric locomotives in the world. October 27, 1904 was inaugurated Station City Hall, the first station of the modern New York metro, currently closed, but accessible for inspection passengers 6th route, the train which makes a U-turn at the end station Brooklyn Bridge.
Most of the New York subway stations are notcommon input and a common platform for trains running in opposite directions. Therefore, passengers are forced to pay twice the fare, if inadvertently pass on the idea to his station, but on the platform with the wrong direction, or when passed my stop and try to return to the previous station.
The names of the stations to help navigate thetown, because they all have names corresponding to the objects, which are located near. However, due to the fact that different areas (boro) New York streets have the same name, and the station names are repeated. For this reason, to avoid errors or other indications of the stations normally use its name along with a route number.

Tickets for the New York City subway
Buy tickets for travel on the subway in New York can beor on duty at the station or in automatic terminals MetroCard. Ticket Terminals have menus in several languages, accept cash and credit cards, issued checks and delivery. You can purchase Pay-Per-Ride card per trip with transfers bus-subway for 2 hours after the first passage, SingleRide card to travel for 2 hours direct or card for multiple trips Unlimited-Ride, which once can use 18 minutes for a fare on the subway or on the bus.
The main problems of the New York subway - litter, graffiti and rats. Authorities are trying to fight them - but because of the poor financial struggle so far failed.
Metro Pictures in New York