Viewpoints New York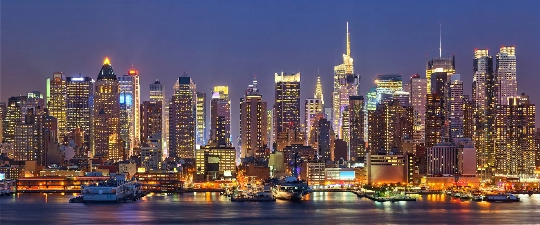 Viewpoints New York offer their guests to see from a height as Museum Mile, Broadway, the Freedom Tower, Central Park and other important objects.
Empire State Building
The skyscraper height of more than 400 m, haslookout on the floor 86 (at the box office is necessary to pay the ticket, $ 20), which want to raise the foot (1,500 steps) or a high-speed elevator. It (the review - 360˚) offers a wonderful view of the East River and other attractions. If desired, you can climb the 102 floor, but the tickets are more expensive here, and there is an observatory available does not provide a proper round view.
On the 2nd floor, tourists are advised to "test" ride-simulator "New York Skyride" - he imitates the flight over New York (with the "journey", lasting 25 minutes, adults pay $ 52).
Address: 350 Fifth Avenue, Manhattan
American International Building
The building has a viewing platform, equipped with 66 floor - here guests can admire spectacular views of New York City.
Address: 70 Pine Street.
The restaurant "The View"
This revolving restaurant, located on therooftop "Marriott Marquis", guests will be able to admire the buildings and skyscrapers, while the institution will make revolution around its axis, during lunch or dinner.
Address: 1535 Broadway.
Observation Deck Top of the Rock
Tourists who come up here on the elevator, will be able tosee New York with a 259-meter-high (platform consists of 3 floors). Important: tickets better to buy in the morning - they will be indicated while visiting the site for review (the lift pass is strictly by ticket and specified in their time), from where you can admire the Statue of Liberty, the East River, the Hudson River, Chrysler Building, holding a cup of coffee or a glass of Fresh. Adult tickets will cost $ 30, pensioners - to $ 28, and children 6-12 years - to $ 24. Those who wish to be able to get a ticket "Sun & Star" (allows you to make 2 lift to the site - in the morning and evening) - it costs $ 45 / adult and $ 26 / kids.
How to get there? To services of tourists - buses № QM20 or QM2 (address: Rockefeller Center, 30 Rockefeller Plaza).
The Statue of Liberty
For those wishing to organize excursions to the Crown(Get to one of the best lookouts can overcome more than 350 steps) Statues (its height - 90 m), where the windows of the 25 they will be able to admire the New York harbor.
It is worth noting that the entrance to the statue - is free, but getting here by ferry, tickets will be charged at the following rates: adults - $ 13; senior citizens (62+) - $ 10; 4-12 year-olds - $ 5.
Address: Liberty Island
You do not want to climb to higher floors of skyscrapers? You can walk along the Brooklyn Heights Promenade - hence be able to admire the port, the Brooklyn Bridge, the financial center, the Statue of Liberty.
Photo