Shops and shopping centers of New York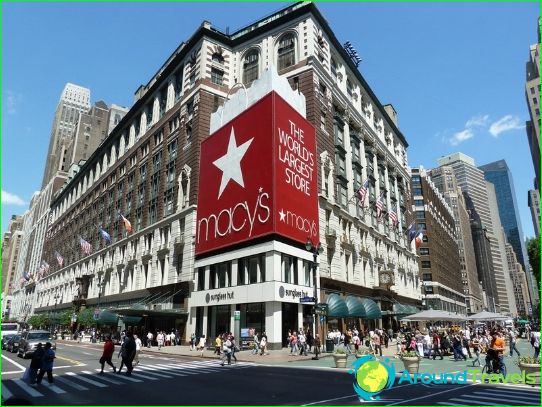 If there is a shopping capital, it is New York. As it is impossible to grasp the immensity, so difficult to determine the routes for shopping in New York. Department stores, boutiques, factory shops, whole malls outlets and small shops. Help can buy a shopping tour. In addition to a pre-existing action plan, shop tours for its attractive discounts. Shops partners of the organizers of such tours offer participants a discount, and if someone purchases the amount is large enough, some of the organizers even return the value of the tour "ticket."
Significant discounts promises and touristCard New York Pass. It is beneficial, primarily to visit the city's attractions, and many well-known stores offer discounts to its owners. About all current promotions provides information on the Internet. When you purchase a large amount of the discount (tourist discount) and you can just ask, do not forget to smile pleasantly.
Point of sale in Manhattan
Manhattan is a big city district, closefinancial, cultural and commercial center of course. It attracts dandies and ladies from all over the world for its department stores, Saks, Bloomingdale's, Macy's and designer boutiques Tiffany, Louis Vuitton, Prada, Fendi and others.
Take a look at the luxury jewelry canFifth Avenue on the first floor of the temple of Tiffany jewelry, and choose something for the better in the third, there is jewelry more affordable. And make sure that they packed into the famous blue box. To further touch "epic" "Breakfast at Tiffany's", sip coffee, like Audrey Hepburn in a street cafe on the background of shop window.
Bloomingdale's - the famous department store, wherepresented all known brands. In it at any time of the year there are departments of discount. So we can look after itself a symbol of American freedom - jeans. Not necessarily looking for this "working clothes" with the label promoted. Little-known American companies use the same fabric and standard curves. The department store has a high quality of service. It is possible to order a shopping guide, delivery of purchases to your hotel.
On Green Street is the main rebel boutiqueand founder of the punk fashion Vivienne Westwood, and very close to a completely different, light and romantic Anna Sui selling their vision of women's clothing and makeup.
About a third of America's garment industriesThey settled in Manhattan. Factory stores offer products without trade markups. Go on the hunt for svezheotstrochennymi things in the area of ​​34-40's streets and even on 6-8 th Avenue in Manhattan.
With all the "apple" novelties availablethe Apple Store on Fifth Avenue. This is not just a store, and the electronics museum and at the same time an exhibition of her latest achievements stand electronic gadgets in the US is much cheaper than ours. But when purchasing must take into account the following points: often the device can only work in America, and not every hacker will be able to sew them to Russian conditions, and buying electronics in another country, you can hardly expect the warranty in case anything happens. So do not give in to impulse, to explore all possible exploitation desired device in advance.
Flea Market in Brooklyn
Brooklyn Flea Market - Williamsburg. Especially crowded the market in the summer. Here you can buy hand-made souvenirs and antiques. Maybe you're lucky and you will find a sign with the old vintage cafe menu or old license plates. But be careful not to fall for a modern imitation. As a souvenir demand Indian "dream catchers" - leather circles with colored embroidery and decoration of feathers. A good gift to friends and will be cowboy hats cowboy boots made of different materials. New can be purchased at any department store, but for the old - here.
pharmacies
The US pharmacies sell not onlymedicines and cosmetics made from natural ingredients, food products, household chemicals. Many prefer American medicine to facilitate cold symptoms, fever and pain. Just stocking pharmacies dental strips and toothpastes that whiten and truth - Crest Whitestrips. But bleaching should be treated with caution, if your teeth are sensitive, it is better not to risk it, then torment pain in response to the slightest irritant. Another demand "pony" shampoo Mane'n Tail, which is advertised Carrie Bradshaw. He had adapted to the people and gives hair extraordinary shine.
Photo shops in New York