Shopping in New York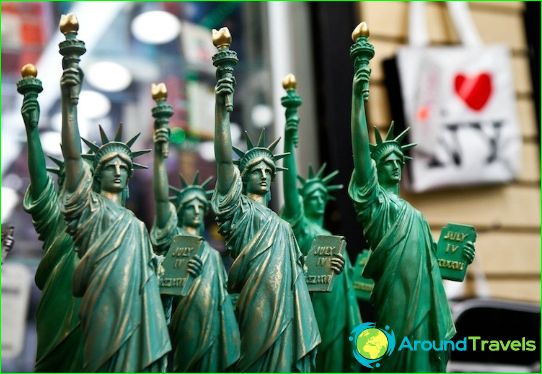 New York - a city of endless possibilitiesfor shopping. It collected all the variety of outlets - from boutiques known companies to small shops with products novice designers and giant shopping malls. In this city, the sale lasts all year round, which makes it possible to buy branded items at 60-70 percent cheaper even in the middle of the season. In addition to the numerous shops you can find a lot of unexpectedly fresh fashion ideas, as the range of goods sold in New York is different from the European. So, what to buy in New York in a gift to yourself as well as numerous relatives and friends?
Popular shopping
Clothing. In New York, it is impossible to resist buying designer clothes. There are many popular brands from the Americans, which differ in such high quality that the thing can be passed from generation to generation. Here is everything - from underwear to outerwear, for both men and women, and for children and adolescents. Styles - also for all tastes from polusportivny to vintage. Presents some brands that produce only small sizes or just great. And, of course, New York is famous for many denim brands. It is also not a problem to find products of this cashmere or wool. Pay attention to the things to note wrinkle free, which is much easier to ironing.
Cosmetics and perfumes. In New York, there is a possibility to buy cheap perfume, if you look at it in a large shopping center or online store, rather than in the boutiques. Cosmetics famous brands is cheaper here than in Europe. Suffice it advantageous to buy cosmetics or perfume set and get a discount in addition to another and corporate gift.
Accessories. If you want to buy a handbag, purse, belt, sunglasses and watches high quality and really original for a small price - go to one of the shopping centers of New York. At low cost, you can purchase and design of the highest quality luggage.
Jewelry. Diamond jewelry in the New York jewelry stores are characterized not only the original design, but also a truly affordable price.
Cell phones and laptops. This, of course, American-made products, which are available in New York City are much cheaper than in any city in the world. However, keep in mind the fact that the export of more than two pieces of equipment, such as iPhones, will have to pay customs tax.
Books and CDs. In New York, it is possible to find the valuable old book in the original, you can also find an impressive collection of rare American music.
Photos of shops and shopping in New York City