Washington - The US capital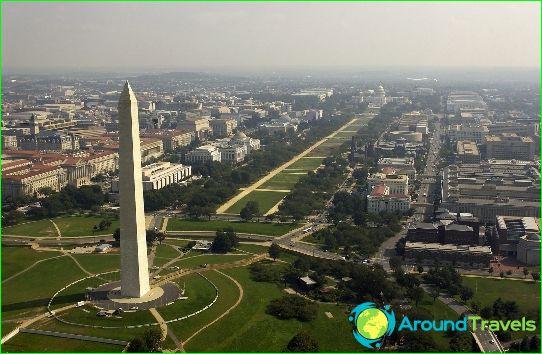 The capital of the United States, the city of Washington, does not belongone of the states in the country, but together with the neighboring Georgetown and surrounding areas form the District of Columbia. The capital is not too populated. Here live a little more than 600 thousand people, while in the district as a whole live almost 5.5 million citizens.
What you should definitely look into Washington
City Tours plan will be very interesting. From the first time all major sights hardly get, so if you were in Washington for the first time, be sure to check:
National Mall. Here are the main historical attractions. National Mall, in fact, a long park with a lot of monuments are located, and fountains. The opening of the main boulevard was held in 1965. It is decorated with a huge marble stele, dedicated to the first president of the country. With the elevator located inside the monument you can climb to the observation deck, and from a height of 169 meters to admire the panorama of the city.
National Cathedral. There should certainly visit. Incredibly beautiful building attracts many tourists from all over the world. Sophistication Gothic style buildings combined with unique stained glass windows, gargoyles fabulous and magnificent gardens - that's what makes it so popular. The Catholic Church has consistently receives hundreds of parishioners during mass worship. And now it is the largest Catholic cathedral in all of the Western Hemisphere.
Art Gallery. Gallery became a place of assembly works, painted by artists who lived in the 16-18 centuries. It was opened in 1937 at the expense of four private collectors. They also helped organize the exhibition as a unique composition. While visiting the gallery you have the opportunity to admire the masterpieces of talented artists. The building is surrounded by a sculpture garden gallery, where the works of the masters of the Middle Ages.
Ford's Theater. World popular theater received after that occurred within its walls tragedy. It was here in 1865, while watching the play, there was a murder of Abraham Lincoln. On the ground floor you can view the exhibition dedicated to this tragic event.
Festival of cherry blossoms
At this time many are flocking to the capitalguests to admire the flowering trees. For the first time the capital of the "blossom" in 1935. That's when the first festival was held, which later became an annual event. The event lasts for five weeks. Guests can not only enjoy the beauty and fragrance of cherry blossoms, but also to visit a variety of concerts, sports and dance competitions.
Photo