Washington Metro: map, description, photos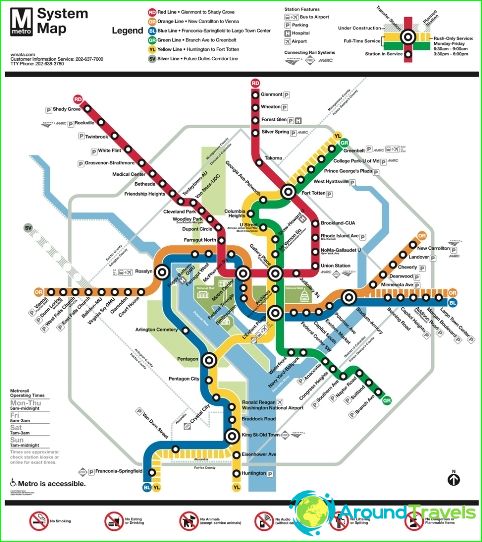 Driving Washington metro
Washington Metro serves the US capital, as well asits surrounding suburbs. The system is administered by the Washington Metropolitan Area Transit Authority (WMATA), and since the opening of lines has grown to five in 1976 (one line is under construction), 86 stations and 171.1 km of track.
Washington Metro is the second busiestrapid transit system in the United States after New York City subway. In 2008, 215.3 million trips, which averaged 727,684 trips during the week was done. In June 2008, in the Washington metro new monthly record for passenger traffic was set - 19729641 trip, or an average of 798,456 per weekday. travel Tariffs vary depending on distance, time of day, and type of passenger tickets. Tickets are cards of various denominations with a single magnetic stripe or recharged.
Many metro stations have been developedan architect from Chicago, Harry Uizom (1915-1998), and are an example of architecture of the late 20th century. Stations. built in recent years, they have a different architecture, but also in their design influence is present original ideas Harry Uiza.
About 80 km of lines and 47 metro stationsunderground is mainly within areas with a high density rate. Lines passing on the surface, is about 74 km and 14 km of track run above ground.
At a depth of 60 m below the surface isForest Glen station on the red line - the deepest station in the subway system. It has no escalators for passengers pltatformu dovozyat speed elevators. The time of descent / ascent to the platform takes 20 seconds.
Wheaton Station, following the Forest Glen station on the red line, has the longest escalator in the United States and in the Western Hemisphere - 70 meters.
Unofficial metro center is onthe intersection of the busiest lines: red, orange and blue lines. The station has an appropriate name Metro Center, here is the main sales office Washington Metropolitan Area Transit Authority (WMATA). The other five "key stations" with a large volume of passenger traffic: Gallery Place, L'Enfant Plaza, Union Station, Farragut North and Farragut West.
In order to ensure the maximum comfortprocess direct from station to station, the Washington Metro is studying the possibility of building pedestrian linkages between neighboring stations. For example, a 230-meter passage between stations Metro Center and Gallery Place will allow passengers to carry out transplantation between orange, blue, yellow and green lines. Another tunnel between Farragut North and Farragut West allows you to quickly switch between red, orange and blue lines and relieve the Metro Center station by 11%. SmartRIP system is now implements the ability to transplant from one branch to another in a single trip.
Photos of Washington metro