Boston Streets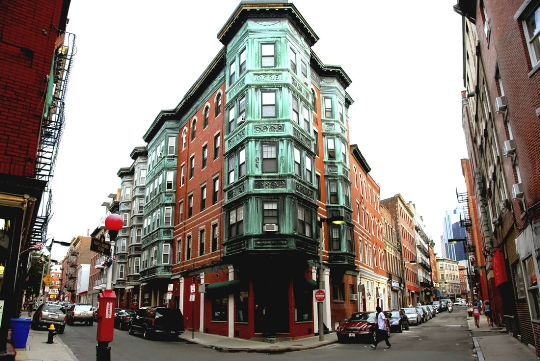 Boston is the capital of Massachusetts. The city is dominated by the European lifestyle, which is manifested in the architecture and customs of the locals. The streets of Boston known for interesting sites, monuments, popular shops and restaurants.
Boston is divided into districts and districts:
Alston, Michon Hill and Brighton - residential areas;
Beacon Hill - the place of residence of aristocrats;
Chinatown - Asian quarter;
Dorchester - the working area;
Downtown - the central part of the city and tourist center;
East Boston;
The financial district - the center of commerce;
North End - Italian quarter.
Freedom trail
This is considered the main street in Boston and passesthrough its center. It stretches for 4 km and combines the main attractions of the city. Freedom Trail originates near the popular park and misses the oldest buildings. It is Government House. Freedom Trail along the road is marked with a red line and inscriptions. This is a pedestrian street, which runs through 16 places, which are the best objects of Boston.
A large area in the central part of the cityreserved for the Boston Common park. It is the oldest public park in the country. It is divided into two zones: Boston Public Garden and the Common. Entrance to the Public Garden is decorated with The Boston monument to George Washington, which looks toward the long street in Boston - Commonwealth Avenue. Above the park stands the Common Massachusetts State House, where the meeting was held of representatives of the executive and legislative branches of the state.
Not far from the center of Boston Parkis the picturesque boulevard Commonwealth Ave. Strolling along the boulevard, you can walk to the Brighton area, where there are immigrants from the former Soviet Union. The population here speaks in Russian. Along Commonwealth Ave is Newbury Street, which operated art galleries, chic shops, restaurants and boutiques.
Washington Street
Here it is the Southern House Meetings - one ofthe main historical monuments of the city. On Washington Street Bookstore is located at the Corner - literary center of the 19th century. Washington Street is the longest street in Boston. It connects the city and the mainland.
Interesting streets of Boston
For tourists, the area is of particular importanceBeacon Hill, where the narrow streets and mansions. There is the old market, built in the 19th century. The area has many good shops, popular restaurants and cafes.
Walking around Boston, you can see the streets with unusual names: Spring. Ln, Winter St, Autumn. St. Symbols of some streets dedicated to different countries of the world: Greek Sq, India St, Lapland St and others.
Photos of Boston streets