Christmas in the US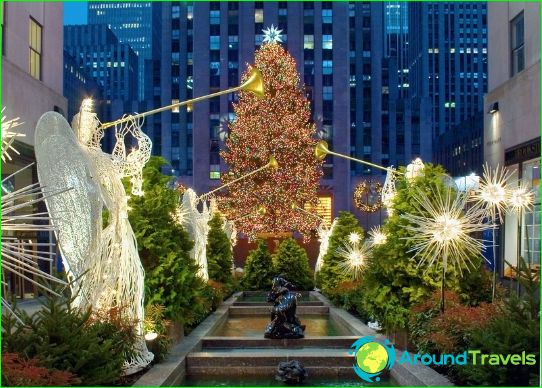 On Christmas Day in the US There is such a festiveatmosphere that positive inadvertently charged, all guests of the country. These days are a record in the number of funds spent on gifts and ordered in restaurants festive dishes. The streets of American cities look frames the screen descended from famous Hollywood films of the New Year holidays, and because a trip to the United States in the winter will only joyful emotions and unforgettable impressions.
brought tradition
United States - a multinational country and all itsmain traditions were brought by immigrants in the past century. Dress up Christmas trees began by analogy with Germany, but not only caught up with the Europeans in this regard, but also surpassed them. The most important tree for Christmas in the United States dress up in New York at the Rockefeller Center. She became a symbol of the New Year the city, although once was decorated for themselves the builders who worked on the construction of skyscrapers. Tradition liked caught on and today the Big Apple is hard to imagine without this fluffy beauty and poured underneath the roller, where, according to the scenarios of many films, occur most unexpected meetings and romantic love.
Another important attribute of Christmas in the United States -sales in all stores of the country. In these weeks the shelves swept away all the clothing and electronics, shoes, toys, building materials and cars. Start to the season the big shopping in "Black Friday" after Thanksgiving.
Winter beach - not a mirage
Relax at Christmas in the US, many preferunder the palm trees of Miami or Hawaii. It becomes quite predskazumym solution since come up in the warmth of the ocean away from the winter cold and slush is not so bad. And given that Christmas is the American way, even in these latitudes, and as such remains, then opt for the golden sand and lovely cocktails at sunset silence is obvious.
There are other options for those who want to breakstereotypes. For example, to arrange a Christmas in the United States, going to Las Vegas. Tease fate and test your luck on the favor by putting "on the red," what could be more fun this scenario festive evening? From Vegas, you can take a fascinating trip to the Grand Canyon and Monument Valley, fly by helicopter over the breathtaking gorges and then send the photos to friends stunning scenery on the background of westerns.
Scenarios for the winter holidays in the United States can come up with a great variety. For their realization just enough to buy a tour and start to collect suitcases: Christmas is just around the corner ...
Photos of Christmas in the US