Metro Atlanta: circuit, photos, description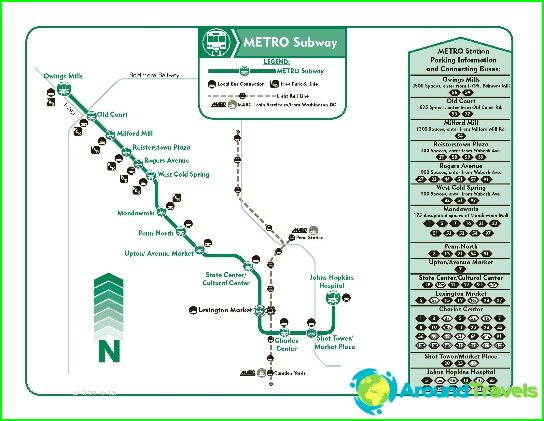 The public transport system, servingurban and suburban routes in Atlanta, called MARTA. It consists of more than 130 bus routes and four subway lines, on which 40 stations are open to the needs of passengers. The total length of all branches of the metro Atlanta is almost 80 kilometers, and every day its services are used by a quarter of a million passengers.
For the first time on the need to Underground Atlantatalking in the middle of the last century, and in 1965, the state government decided to start its construction. Originally it was planned to connect through new routes the city and five counties in the neighborhood. But in the course of planning there were some difficulties and obstacles, resulting in the first phase of metro Atlanta, which opened in 1979, linked the city with only two districts. Further development and construction of the MARTA system allowed to expand the possibilities of this type of transport.
Atlanta metro lines connect the center todaycity ​​districts with DeKalb and Fulton and the international airport, which is considered one of the busiest in the world. Routes are called according to colors, they applied to the underground circuit.
The red line stretches from south to north andlinked the airport to North Springs. Blue route connects the eastern with the western Indian Creek West Lake. Yellow line runs parallel to the red from the south of Lenox, which changes its direction towards the northeast. The shortest green line goes from east to west. All routes intersect in the metro Atlanta hub Five Points Station.
Atlanta Metro stations in the city were built underground, and in the suburbs, as a rule, become ground.
Hours metro Atlanta
Metro Atlanta begins its work on a daily basis 5.00 am. Recent compositions come in the morning. At peak hours the average interval of trains in metro Atlanta is not more than 12 minutes. The rest of the time waiting for their staff accounted for about 20 minutes.
Metro Atlanta Photos