Baltimore Metro: circuit, photos, description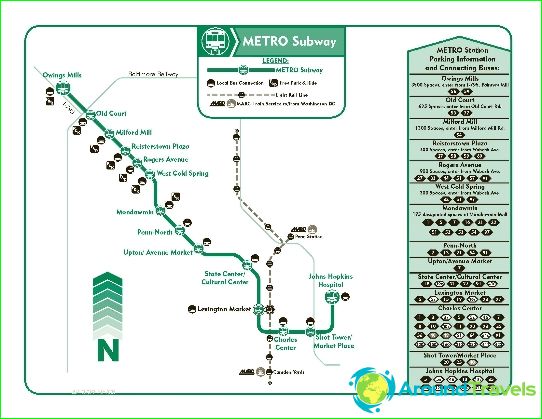 Baltimore Metro Subway is valid from November 1983of the year. This kind of urban transport of Baltimore - Maryland state capital is for the most part of the land, and underground stations and stations are located only in certain central areas. Today Baltimore metro - it's the only operating line is denoted in the schemes of public transport green. Its length is about 25 kilometers, passenger service fourteen stations, eight of which are located underground. Only 10 km of tracks are underground metro Baltimore.
Starting a route from Hopkins Hospital,situated in the historic part of Baltimore. It then passes through the business districts in the north-west direction. Ends metro Baltimore branch of the mall near Owings Mills.
At day underground Baltimore, despite the fact that it is represented only by a single line, up to 50 carries thousands of passengers that a year is not less than 15 million.
The first section of the Baltimore underground was put into1983 operation in the year. Four years later, it opened the second stage, and in 1994 - the third segment. All Baltimore metro stations are designed for trains of six cars and offer passengers the possibility for change in the buses. Transfer to a high-speed trams and trains going to other cities of Maryland, Baltimore metro stations impossible.
Hours Metro Baltimore
Metropolitan Baltimore begins servicepassengers at five o'clock in the morning from Monday to Friday and 6.00 on Saturday and Sunday. Completes its work this urban transport at midnight. All the way to overcome the train line about half an hour, and range of motion in their usual time is 10-11 minutes. The peak breaks are reduced to 8 minutes. The average speed of trains in the metro Baltimore is quite high and is at least 100 kilometers per hour.
Metro Pictures Baltimore