Traditional cuisine of Colombia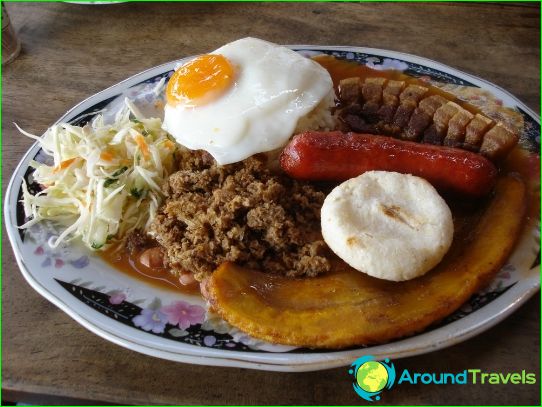 Power Colombia characterized in that its cost is relatively inexpensive.
Food in Colombia
In the Colombian cuisine was influenced by Europeanculinary traditions, and it felt and Asian flavors. The diet of Colombians present rice, corn, meat, seafood, vegetables, fruits, fish, legumes.
In Colombia, the taste is steamed seafood( "Cazuela de mariskos"); maize pancakes ( "AREP"); chicken soup with corn, potatoes and local herbs (ajiaco); chicken or pork with corn, vegetables and eggs, steamed in banana leaves (tamales); roast suckling pig, stuffed with vegetables and rice (lechona); fried balls, and cheese cooked corn flour (bunuelos); cuts of pork, beef, sausage, beans, rice, avocado, eggs and fried bananas ( "pandeha-paisa"); spicy sausages ( "Cabano"); stewed or marinated meat with vegetables ( "cebiche"); fried guinea pigs ( "smoke"); fried ants special form ( "ormugas-pendant").
Sweet tooth is to eat sweetscustard ( "natilya"), fried strips of fruit dough ( "ohuelas"), a paste of guava and other fruits ( "bokadilo"), a pie stuffed with vegetables ( "El Carmelo"), bananas, fried with cinnamon, sugar and vanilla ( "tentason").
Fans can enjoy fruit in Colombia, not only pineapples, mango, pineapple guava, papaya and oranges, but also such exotic fruits as uchuva, Guam, kuruba, pomarossa, guayyabamanzana.
Where to eat in Columbia? At your service:
cafes and restaurants where you can enjoy Colombian and international cuisine;
fast food restaurants: McDonalds; Frisby and Kokorino (here it is possible to order fried chicken); Waffles and Crepes (here you can enjoy desserts and ice cream); El Corral (here you can enjoy scones with different fillings).
Drinks in Colombia
Popular Colombians drink - coffee, hot chocolate, mate, juices of tropical fruits, "manhar Blanco" (vanilla milk), beer, rum, "agaurdente" (cane brandy).
In Colombia, you can try the beer brands such as Aguila, Dorado, Club, as well as "champus" (foamy drink made from pineapple, cereals and other ingredients).
Gastronomic Tour in Colombia
As part of a gastronomic tour to Colombia, youtaste national dishes and drinks, as well as visit the Gastronomic Museum (it is open in the Colombian city of Cali). There you will learn about the history and development of the Colombian cuisine ways, as well, you will visit different areas of the museum ( "Indian epoch," "Spice Road", "Modernity").
And in the Colombian city of Cartagena, you will be able tovisit the restaurant "La Vitrola", which offers a feast on the abolition of national dishes and listen to jazz. If all of a sudden you come to this restaurant, and it would be no free tables, you can expect to receive a free sweet and a bottle of Veuve Clicquot.
Colombia - a colorful and noisy festivals(Exhibition of Flowers in Medellín, the International Caribbean Music Festival), sports activities (cycling "Colombia Tour" tennis competitions, football and other sports games), sandy beaches, colorful cuisine.
Photos Colombia national dishes