Resorts Colombia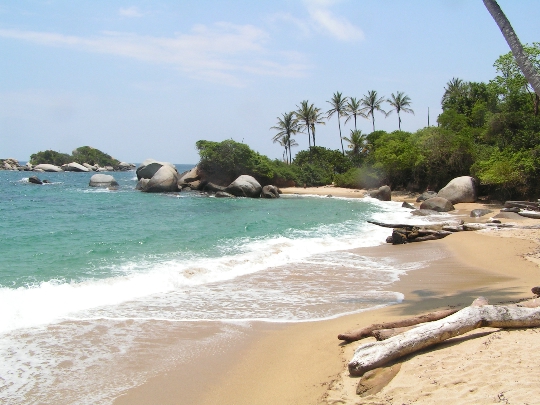 If you have your own opinion about everythinglight and conventional clichés and stamps do not attach any value, Columbia resorts literally created for you. Although not the most perfect reputation in tourist circles, this country has a unique potential to become eventually a popular beach vacation in South America. She needs to do only a little - to cease to appear in the reports of criminal international news.
"For" or "Against"?
Apart from the above reasons the skeptics arsenalthere are a couple of arguments against a flight to Columbia resorts. Firstly, the length of the flight itself, and secondly, - the cost. Optimists confidently beat this card features buying a ticket during special events flights, regularly giving the opportunity to purchase tickets at the price desired trip to close, but the order of boring country.
"For the" rest of Colombia confidence vote itgorgeous beaches, an ideal opportunity to explore the culture of the Caribbean and the ancient attractions of the Indian states, not conceding promoted by the Peruvian and Mexican ruins. By the way, the Russian tourists entry visa to stay in the country up to 90 days is not required, which can not fail to please eager to wave the other hemisphere and South America to see with their own eyes.
The emerald Cartagena
The main beach resort of Colombia - the city of Cartagenaon the Atlantic coast. Where you can find a hotel, entertainment and Colombian emeralds for every taste, and the local beaches are among the most colorful in the Western Hemisphere:
On the mainland, sunbathing and swimming in the areaCartagena Bocagrande taken on the beach. He was particularly respected as fans of comfort - the beach is equipped with parasols, sun loungers and changing rooms, as well as families with children - the entrance into the water is shallow and there are no big waves almost never.
If a large company in the neighboring sunbeds - notyour priority, go to the island of Tierrabomba. Despite the rather noisy name on its beaches relatively quiet and cozy. Solitude can be found here at the La Bokeelia, where secluded lagoons and bays beautifully interspersed with mangroves. Gourmets will enjoy the beach of Punta Arena, full of restaurants, whose menus - only the choicest seafood.
Playa Blanca The name speaks for itself. This beach on the island of Baru is considered the best resorts on Colombia because of the white fine sand and small coves, is not too popular among the local population. Solitude and complete relaxation is guaranteed one hundred percent!
Photo