Bus tours to Karelia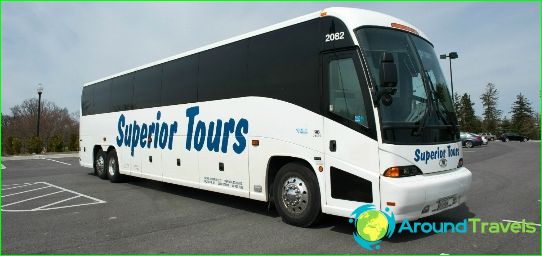 If you have long dreamed to meet withKarelian margin, learn its history and visit in Petrozavodsk, Olonets, Medvezhyegorsk, Kiryazhe, on the island of Valaam or Honkasalo, the bus tours in Karelia will help you to do this comfortably and quite inexpensive. In Karelia, you can wander through the magnificent Ruskeala the park, take a picture of waterfalls in Tohmajoki river and visit an interesting peninsula Taruniemi. The excursion program is very diverse, so that your money is definitely not wasted. During the tour, you can not only relax and enjoy the beautiful scenery of the Karelian region, but also to learn a lot, as well as fill in some of the cultural gaps.
Top of Karelia attractions
Of course, to explore the whole region in one trip is notwill in any way, but programs saturation is still very high. They usually include familiarity with the military and peaceful history of the region and visit the most popular tourist attractions:
Petrovsky garden in Petrozavodsk;
Valaam Monastery;
Ruskeala marble quarry;
Ancient volcanoes;
Vazheozersky monastery;
Kizhi ozherelyae;
Voinitsa and many others.
The main routes of most tourslie around Lake Ladoga, which is the largest fresh-water lake in Europe. Travelers will not be bored on the road, as they always will be, what to see. On the way tourists will pass the most beautiful places of Karelia will examine the high granite rocks that shimmer in the sun all the colors of the rainbow, Love Enough to slender pines.
The road will not take long, however,travelers will feel comfortable and during the transfers. In just three days, you will have time to visit the famous waterfalls, Ruskeala park and the ancient fort, if you follow a rich excursion program.
The cost of a comfortable bus tour
If you order a bus tour, you do not haveadditionally to buy train tickets, and there will be no night journeys. It will save you time and experience, and a significant amount of money. On the way you will be able to view the Alexander-Svirsky Monastery, as well as to visit the border between Russia and Sweden. Not one minute travel is not in vain, and the guide will accompany your journey appropriate historical references and comments.
Typically, the duration of the tour to Karelia - from three toseven days, and the average price - from 7 to 20 thousand rubles, depending on the saturation of the excursion program. Given that you pay for an unforgettable experience, the price of bus tours in Karelia can be called very democratic.
Nature of Karelia
Photos of bus tours in Karelia