Where to rest in Karelia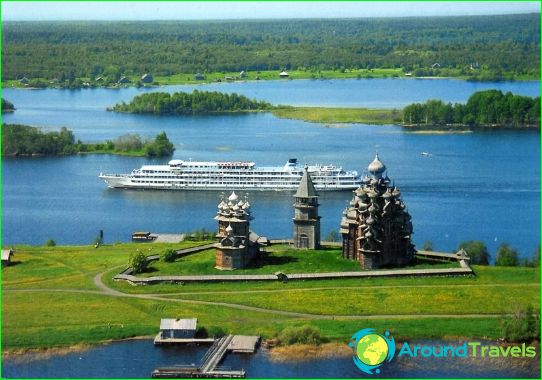 From year to year it is becoming more of Kareliaa popular tourist destination. This region attracts with its natural wealth: rocky beaches, endless forests, pristine lakes and waterfalls. the question is, where to go for a vacation in Karelia before each traveler. When you select the type of holiday should take into account the objectives and expectations of the trip.
Sightseeing holidays
Karelia is famous for its scenery. And look there is something. For example, you can swim in the largest lakes in Europe - Onega and Ladoga. Also attracts tourists goggles one of the largest plain waterfalls in Europe - Kivach. It is recommended to visit the famous petroglyphs, which are located on the banks of the river Vig, and the sanctuary of the Saami on the mountain Vottovaara. As for more modern buildings, no less curious and strengthen seem preserved from the times of the Great Patriotic War. Be sure to visit the island of Valaam and Kizhi, the latter of which is famous for the Church of the Transfiguration. In addition, and in the capital of Karelia is something to see.
Family with children
For children, this journey will be at leastexciting, because this is where you can attach the child to the nature and acquaint him with the history of this wonderful region. Widespread educational trips during the winter holidays, a program which includes visits to various monuments, museums, monasteries, snowmobile and sleigh rides and much more. During the summer, a lot of functions in Karelia camp sites and sports camps, which opened the door not only for children but also for their parents. In such institutions can not only have fun and active rest, but also to participate in educational and creative projects as well as to acquire new skills and knowledge.
Youth holidays
For young people the ideal option would betraveling with tents. Getting to your destination is best by train, make it easier to carry the tents, backpacks, kayaks and other appliances. Those who have their own tents there, do not despair: it can be rented for a modest sum. If we talk about where to go for a vacation in Karelia with tents, the choice is obvious - national parks and Vodlozersky Paanajarvi. True, for the right to settle in the park will have to pay: the cost depends on the number of visitors, length of stay and whether you plan to pick berries and mushrooms. The most common and exciting experience for such tourists is fishing. Fortunately rich catch any fish in each lake and river of Karelia. It's worth noting that for the local salmon fishing you need to buy a license.
Nature of Karelia
Photos rest in Karelia