Areas of Tenerife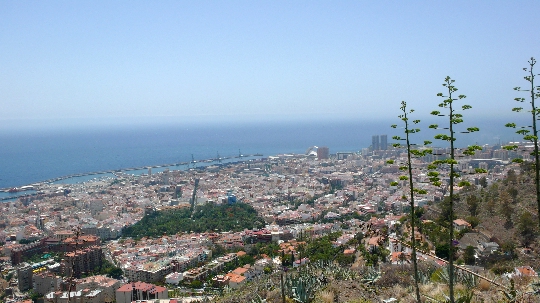 Areas of Tenerife divide the island into 6 parts. Tenerife is divided into the southern (appreciate surfers and windsurfers), northeast (has steep cliffs, ideal for the surroundings of the review), the north (famous for its beaches and green gardens), northwest (lovers of nature, but the area the most rainy of all ), south (quiet area with untouched nature) and southwest (sheltered and popular resorts here are organized hiking in the gorge mask) areas.
Description of the main areas and attractions
Northeast region: interest is Santa Cruz de Tenerife - familiarity with the resort will start from Plaça Espanya, where a monument in honor of the fallen in the Civil War and a fountain (a walk in the area is planned for the evening, when it is illuminated with garlands, lights on which are in the form of drops of water ). In Santa Cruz you can see the Palace Map, towers Torres de Santa Cruz (height - 120 meters), the church of St. Francis, to look into the Museum of Painting and Sculpture (be able to admire the paintings of Brueghel, Wang Lu and other artists) and the Auditorio de -Tenerife (venue of cultural events in the form of an opera festival, concerts, theatrical performances), relax on the beach Teresitas (there are breakwaters, covered with yellow sand).
Southwest region: tourists should pay attention to the resort of Playa de las Americas. He will please their water parks "Siam Park" (offers - 25 water slides) and "Aqualand" (be able to not only conquer the hill, such as "Rapids" and "Crazy Race", but also to visit the dolphins and swim with the dolphins) park "Amazonia" (here inhabit Brazilian butterflies and hummingbirds), Loro park with lots of parrots, 8 sandy beaches (stay on them for free, but the rent beach equipment will be expensive), the castle of San Miguel (visitors to plunge into the Middle Ages, then held jousting tournaments ). Interested in deep-sea fishing can go on a boat equipped with her, and boat trips - on a yacht or catamaran (ships depart from the port of Puerto Colon).
Where to stay tourists
A good place to stay isPlaya de las Americas - the resort offers a variety of hotels to suit all tastes and budgets, as well as bars and discos (should go to the resort center of the exciting nightlife). This place will suit those who want to be away from the noise - a quiet holiday guarantees the western part of Las Americas.
Interested in active water sports? Look for accommodation facilities in the town of El Medano (here often go on surfing competitions).
Photo regions Tenerife