The beaches of the Canary Islands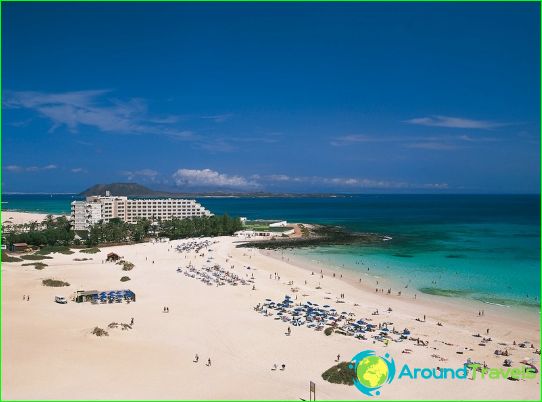 A decade ago, the very mention of the CanaryIslands mean chic, expensive and luxury. This is really an expensive vacation, but it can allow many Russians. Every year more and more tourists visit this paradise. Escape to the Canary Islands are especially pleased when the window of his home broken sky rain.
Sun, sand and permanent fun - so in a few words can describe the general mood and expectations of tourists. The beaches in the Canary Islands is mainly pebble, but there are also sandy.
Tenerife. These beaches are world famous. These tourists come from all over to enjoy the sun, filled unity with nature and just enjoy the excellent service. Popular travel destinations is Las Teresitas with gold fine sand. More exotic beach because of the dark volcanic sand is Playa de Taganana. Sand covered with the same origin Las Americas. These are the best beaches of the Canary Islands. They also could be considered another top-class coastal area: Playa de mask; Playa de San Juan; Callao Gordo; Playa de la Enramada; Playa de los Cristianos. These colorful place to conquer at first sight and attract back those leaving.
Fuerteventura. On this island, almost half of the coastal zone ringed with golden beaches and white sand. Slowness of this unique place is about 20 km long and the width is more than a kilometer. With special love tourists are Playa de Corralejo.
Gran Canaria. The southern coast of the island with its golden sands and glossy emerald ocean water also attracts tourists. People come here to relax couples with children and those who want to escape from the hustle and bustle, to devote time only to each other. This place is appeasing sound of the waves during the day and enriches the passion onshore partying at night.
Lanzarote. The beauty of the beaches of Lanzarote is a smooth transition into each other in various shades of sand. It is not just the magic tricks of nature, but also an incredible experience to contemplate such a landscape. Tourists rush to capture landscapes on the photo.
Kind of a European quality mark "Blueflag "assigned to the best beaches of the Canary Islands. Beaches, awarded this award, meet 32 ​​quality criteria, including safety and environmental cleanliness, service levels, the natural uniqueness and charm.
Photos beaches of the Canary Islands