Traditional cuisine of the Canary Islands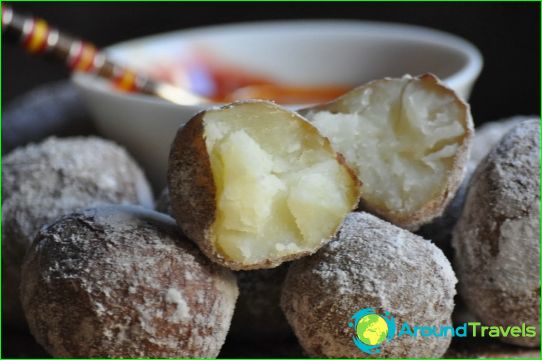 Meals in the Canary Islands is characterized by the fact that to get acquainted with this Canarian cuisine can be, going to places, the word "tipico" which is present in the names of.
Food in the Canary Islands
The diet of the inhabitants of the Canary Islands isfish, meat, seafood, vegetables, fruits. On the local cuisine was influenced by the Spanish culinary tradition, so here are popular paella with chicken and seafood, and tortilla potato. But Canarian cuisine has its own inventions, for example, here you can taste the boiled fish (Sardinas), dried fish with sweet potatoes and garlic (sakonho), roast tuna, meat, squid and octopus.
On the Canary Islands it is worth trying the soup-cream with almonds;huge king prawns fried in garlic (Gambas); marinated pork or beef (carne de fiesta); stew based on apples, beef, pears and corn (Poucher); moray eels, fried until crisp; cold sauce "Mojo" (it's great for meat and fish dishes, as well as to the potatoes, boiled or baked in their skins).
A sweet tooth, for sure, like all sorts of exotic fruits; palm honey; Cream egg yolks with cinnamon and almonds (benmeabe); flan pudding with sugar and eggs.
Where to eat in the Canary Islands? At your service:
European cuisine;
Fast food places (McDonalds, KFC, Pizza Hut);
tapas bars, where in addition to all kinds of drinks, snacks - tapas (as a rule, they consist of a variety of salads, olives, olives, ham, smoked sausage, cheese).
Having lunch at a cafe in the Canary Islands, more advantageous to book a set menu ( "menu of the day") - you will be served two main courses, dessert and a soft drink at a very attractive price.
And do not miss the Canary Islands, where possible,take a trip to the island of Lanzarote to visit a unique restaurant "El Diablo" - here used for cooking a real active volcano, in the form of a huge barbecue, releasing volcanic heat from the earth.
Drinks in the Canary Islands
The most popular drinks in the Canary Islands are the milkshakes, fruit juices, coffee, wine, sangria, honey rum, beer, banana liqueur.
Gastronomic tour in the Canary Islands
The gastronomic tour to the island of Tenerife, youYou can plunge into the world of gastronomy of the Canary Islands: here you will be acquainted with the technology of production of cheese (you will visit the dairy), taste the freshest organic produce, fruit and vegetables, as well as taste the wine, visit the Canarian winery.
In addition, you can learn to cook Canarian and Spanish dishes under the guidance of the chef.
The Canary Islands are famous not only a mild climate, valleys, immersed in greenery, picturesque beaches and bizarre rock formations, but also tasty, original and delicious dishes.
Photos of the national dishes of the Canary Islands