Rent a car in the Canary Islands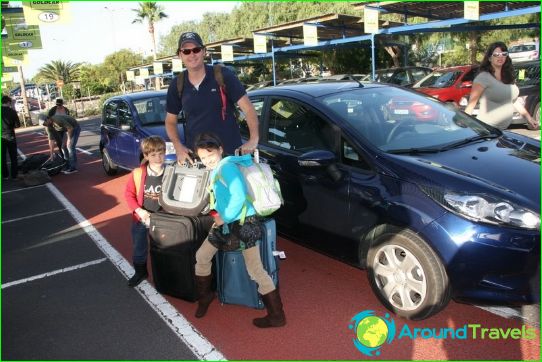 Rental cars - is quite common andpopular service in the Canary Islands. There are many agencies that offer car hire in Tenerife, Lanzarote, Gran Canaria and other islands. Among the distributors there are also leaders and outsiders. The first receive a basic income to turnover, with the well-known name and good reputation among customers. Outsiders practice hidden commissions and penalties to be prescribed the fine print, just as is done in our banks.
Insurance when renting a car in the Canary Islands
Perhaps this is the main point, which is worth considering,deciding to which company to rent cars. Any car, lease, is fully insured against all kinds of damage. However, the cunning landlord chasing additional profit can be noted in the rental conditions specific list of injuries that are not valid insurance. This damage to the tires and wheels, windows and mirrors, seats, and the loss of keys or the wrong type of fuel refueling and so on. D.
It is important to clarify what types of damages are notcovered by the terms of the contract, they can advance on the website of the company. If you can not find this information on the site, ask them to send a sample contract, so you can review it carefully.
Many companies even offer full insurancerisks, but only for an additional fee. Even with such a margin may be advantageous offer. However, deciding to rent the car in the Canary Islands without complete her insurance still read previously with the size of fines for various damages and loss of keys.
Do not "fooled" the provocations on the machine distributorsTenerife and other islands, as they require a deposit at the time, while you reserve a car on their website. Usually no advantage for the company is not providing, at the same time you can not even meet at the destination airport. Offers without pre-payment at the reservation on all the islands enough.
For example, car rental companies in TenerifeThey prefer to get bail and the payment to the customer's bank card at the time of transmission machines. Sometimes on the site such agencies are willing to accept cash even though at the same time they have on the site can be written that they only work with the clearing settlement. But the fact that the early booking of car is always cheaper than rent at the airport, the real truth.
Those who take the car?
If you speak just a little English orSpanish, clearly refer to the Spaniards. Since the compatriots on the car rental market in the Canary Islands can not compete. Convenience only that they speak your language.
Photo