What to take to the Canary Islands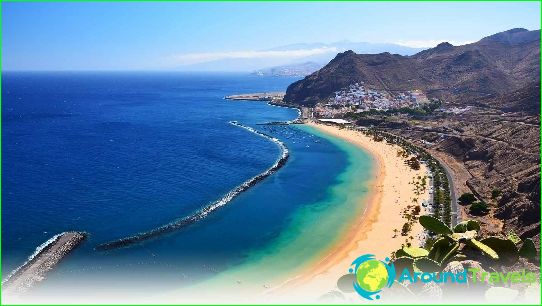 You are going to relax on the beautiful island, butYou do not know what to take to the Canary Islands? Then use the materials of the article. Best advice from experienced travelers - need to take only the most necessary things. Upon arrival you will be able to purchase items that you need at low prices. The most useful accessory is a backpack traveler. With it, you can visit interesting places and do shopping. Backpack with zipper allows you to carry the right things. Some tourists prefer to store documents and money in a special belt. It allows you to protect the most precious of pickpockets attacks. Selecting items is largely determined by recreation views. On the Canary Islands you can relax or actively measured. A set of items in a suitcase tourist will be different.
What to take from clothes
Climatic conditions of the Canary Islandsconsidered as the most favorable in the world. The mild maritime climate provides a good holiday at any time of the year. In the Canaries there is a prolonged rainy season. You will need only light clothing and comfortable shoes. Take things for a beach holiday. If you do not want to clog their suitcase, you can buy new things in place. Canary Islands - a wonderful resort, where you can swim and sunbathe in the winter. There is always warm, but not debilitating heat. We can say that on the islands is dominated by the spring all year round.
After the arrival of the tourists quickly and easilyacclimatize. For a beach holiday tourists take special shoes that allow you to move through the burning sand with ease. In addition to simple and comfortable things you may need to evening gowns. If you plan to visit the luxurious restaurants, then take with nice clothes.
Documentation
The tourist needs a passport, insurance,return tickets, travel voucher, driving license (if any). In the Canary Islands you can hire not only the car but also motorcycle, bicycle and other equipment.
Money in the Canary Islands
Canary Islands - is the part of Spain, thoughgeographically they can be attributed to Africa. The unit of currency is the euro there. Therefore it is best to take with you is the euro. You can exchange money without the hassle of turning to the services of banks, hotels and exchange offices. In the Canary Islands, tourists often become victims of pickpockets. Therefore, the money should be kept away from prying eyes.
Medications for kits
Going to the Canary Islands, do not forget about the minimumset of medications. The kit must be disinfectants, bandage, plaster, wool, activated carbon, painkillers. If you are constantly taking a certain medication, take it with you. In the Canary Islands this drug can not be there.
Personal hygiene items
In the Canary Islands you can buy allthe necessary funds. If desired, you can put in the bag toothbrush, shower gel, shampoo, conditioner, towels, deodorant and other things. Women tend to take your makeup.
Photos essentials