Georgetown - the capital of the Cayman Islands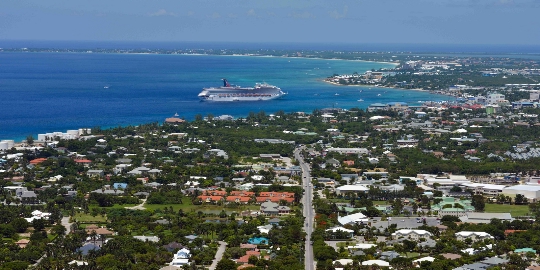 Today Georgetown - very populargeographical name in Europe and America. But Georgetown, the capital of the Cayman Islands, holds a special position - it is not only the main town of one of the UK Overseas Territories! He had the honor of being the financial center and the Cayman Islands, and the planet as a whole. More than 600 banks found their refuge.
The second major mission of the city - this service cruise ships, which are among the most important sources of income of the inhabitants of the city, after, of course, banks.
pirates Week
Mid-November in central Russia - isgrayness, slush, rain. In the Cayman Islands - the height of the spring. And at this time it held the Pirates Week. A variety of activities cover all three islands and, of course, the main city, Georgetown. The program of the pirate festival:
entrance to the harbor of galleons, built on the original scheme of the XVII century;
capture the city brave pirates (disguised in costumes locals and visitors);
Battle, contests and fireworks at the end.
This event is not the first year, but its scope is wider and the number of participants, the pirates of all stripes, is constantly growing.
Attractions Georgetown
The architectural appearance of the main city of the exoticThe Cayman Islands is not much different from the neighboring settlements. Due to the fact that the city developed banking business, there are a lot of luxury office buildings, as well as restaurants, cafes, cozy bars prazdnoshatajushchejsja for the public and tourists.
There in the city and its historic center, andmonuments, and beautiful green areas. In the center of Georgetown is Heroes' Square, a description of its attractions can be found in all the tourist brochures. It is located War Memorial, built in honor of the First World War events. Another important object - the Clock Tower, its construction is related to George the V, King of England.
Among the most interesting natural objects"Cardinal Park", is a zoo and botanical garden, which is located in the Corts Road. A walk in the park - it is a pleasure for the eyes and for the soul. On the same street is located the famous religious building - Anglican and Catholic church, consecrated in honor of St. Ignatius, placed on Walkers Road.
Photo