Airports in China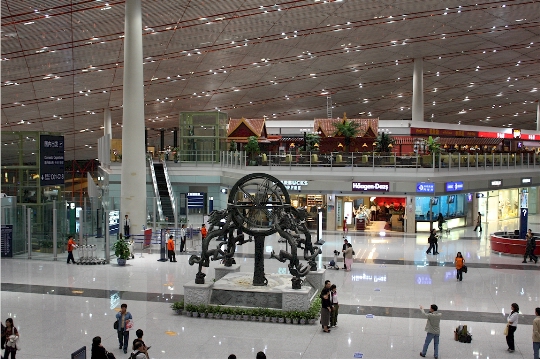 On the vast territory of China are scatteredmore than two hundred airports, and Chinese, as well as their foreign guests prefer to travel by air, so as not to waste precious time on land transfers. The number of international airports in China no less impressive, because almost any major city here has its own air harbor.
The international airports in China
Flights from Russia are carried out in several Chinese airports, and because they are of particular interest for domestic tourists:
The capital's air gates are located 32 km north-east of the historic center of Beijing.
Hong Kong Airport is located on a manmade island, and its terminal at the time of opening in 1998 was the largest in the world.
International Airport in Shanghai, China - Asia's largest and the third busiest in the world.
Although it is not too large, the Macau airport takes up to 6 million. People annually.
metropolitan area
China in Beijing Airport is the second largestpassenger terminal in the world, after Dubai. It offers flights to 120 cities in the world, and airport partners are several dozen flights. From Russia here fly direct flights of "Aeroflot", Air China, S7 and "Ural Airlines". The journey time between the two capitals is 7.5 hours.
Between the three terminals of busses andshuttle service to the city is carried out on the subway line which runs in Terminals 2 and 3, on the bus to Beijing on 11 different routes and a taxi. The last option is the most expensive, and the ride to the center will cost about $ 25 (the price of August 2015).
On the beach resorts
Haikou Meilan Airport on Hainan IslandIt takes seasonal charter flights from Moscow and many regular flights from all the cities of the Middle Kingdom. The commissioning of the new terminal has allowed the Chinese to take the second airport in terms of passenger turnover Province. It offers waiting for his flight to Haikou Meilan - all the necessary infrastructure: shops and restaurants to the currency exchange and massage parlors. Transfer to the city of Haikou takes half an hour by taxi and costs no more than $ 10.
Businessmen interesting
Airport in a major business center of Asia takesand sends planes to 45 cities in China and even in dozens of places on the world map. "Aeroflot" flies to Hong Kong directly from Moscow, and S7 - Vladivostok, travel time is 10 and 5 hours, respectively. In addition to Hong Kong, you can get there on the wings of Japanese, German, Indian, Canadian, Turkish, British, Dubai airlines.
Transfer to the city possible:
By subway, the station is located in Terminal 2.
On buses. 25 routes in various parts of Hong Kong are routed from the passenger terminals.
At the Airport Express - electric train, next to the city's main train station on Hong Kong Island.
At the hotel transport. Many hotels include delivery of their guests in the list of services.
Photo