Prices in Guangzhou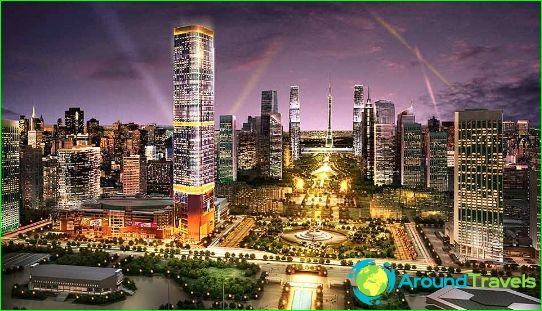 Famous city in South China is Guangzhou. In it are concentrated the economic, political and cultural processes of the region of the country. Guangzhou - the center of Guangdong province. This city, which is home to about 10 million. People, both in Shanghai and Beijing. Despite its popularity, the prices in Guangzhou are available.
Where to stay in the tourist
Guangzhou accommodation plan is lowcity. If you book a place in the hotel in advance, you can save on accommodation. The city accepts payments by China's national currency - the yuan. Pay for goods and services can also be denominated in US dollars.
Cheap hotel you can choose after arrival. Number 5 * hotel can be rented for $ 120. The budget rooms are in a hotel with a small number of stars, which offer a simple service. A room for two in this hotel will cost no more than $ 30. The cheapest accommodation option is the hostel. Beds in a dormitory will cost $ 8. For a private room will have to pay $ 20. Another option is a budget accommodation guesthouse. The cost of living is higher, and the conditions better.
Entertainment in Guangzhou
The city is located in the subtropical zone. Warm and humid climate provides good weather all year round. Guangzhou - the location of a huge number of attractions. The main historical and cultural values ​​-. Sun Yat-sen Museum, home of "Chzheenhaylou" Chen family temple and other excursion with a visit to Yuexiu Park and cruise on the Pearl River Pearl is $ 220 per person.
Increasingly popular are shopping tours in Guangzhou,which cost 400 - $ 600 per person. Participants of this tour is available accommodation and breakfast at the hotel, transport costs, guide and meeting at the airport. Visa, tickets, insurance, sightseeing, shopping and customs costs - these are additional costs. Learning trip to Guangzhou can be ordered for 530 - $ 800.
Eating in Guangzhou
Prices for low power products. Drinking water 1.5 liter costs $ 0.6, bread - $ 1.64, rice - $ 1.15. When staying in a hotel, breakfast can be included in the room rate. On the power tourist missing 250 yuan per day. The city has a lot of catering. If Chinese food does not suit you, you can eat in a restaurant with international cuisine or fast food establishment. Dine in an inexpensive coffee shop can be $ 3-5 per person.
Guangzhou
Photo