Attractions in Guangzhou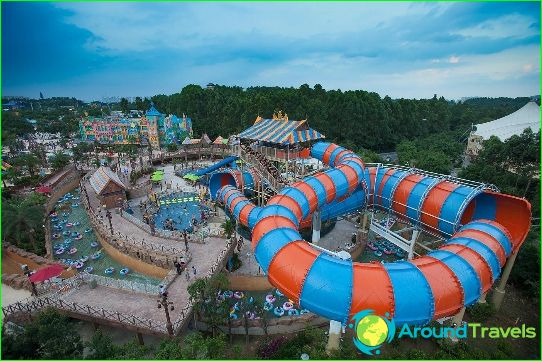 Guangzhou - China's third most important city and oneof its largest cities, and its history began in the year 862 BC First it was the most important in the country's commercial and industrial center, but in recent years the tourism industry is developing more actively. After all, despite its trendiness, the city has not lost its special charm inherent in all ancient cities, so that every tourist will find here a lot of interesting. Of interest and Guangzhou attractions, most of which are located in the largest amusement park in the whole province of Chimelong Paradise.
Amusement Park, Chimelong Paradise
This amusement park can be considered as one of the largest not only in the province, but throughout China. The property includes:
International circus;
separate amusement park;
crocodile farm;
aquapark;
racetracks for motorcycles;
Numerous swings and roundabouts.
The total number of attractions here for a long timeIt exceeded one hundred. The main "trick» Chimelong Paradise - is the largest in the country, a roller coaster, the height of which currently stands at 97 meters. In addition, the park has its own individual hotels and restaurants, so there is literally possible to settle.
TV Tower Canton Tower
TV Tower Canton Tower continues to listpopular entertainment attractions. The height of this colossus is 610 meters, with curious what the basis for his design went to the development of Russian engineer Shukhov.
On top of the building is an observation deck,where you can enjoy an unforgettable panorama and make colorful pictures. The most popular entertainment here - a rise in the special monorail, which is a spiral encircling the entire building. This is longer than the elevator, but the spectacle of stunning.
Another entertainment - bungee jumping is located at 108 level. However, this is only an adventure for real daredevils.
Xiangjiang Safari Park
A part of the wild jungle in the vicinity of the metropolis. Pets are completely left to themselves, and people can only stare at them from trailers. In fact, the railway passing through the park, and is its main attraction. However, the fact that the wild animals are not afraid of people, and often approach them closely, gives special urgency walk.
Photos attractions in Guangzhou