Guangzhou Metro: map, description, photos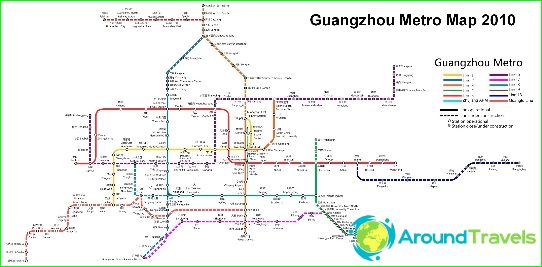 Scheme of Guangzhou Metro
Guangzhou Metro capital of Guangdong Province -the fourth subway in China after Beijing, Tianjin and Shanghai. The first projects to build underground rapid transit in Guangzhou appeared in 1960. For two decades, the project was offered five times for discussion, and each time it is abandoned due to financial and technical difficulties. Finally, in the 80 years the project has been accepted, and construction was started in 1993. Four years later, in 1997, five stations of new line were put into operation.
As of December 2013 Guangzhou Metrohas nine lines in operation, the majority of which serves urban areas of the city, the other part serves the suburbs: areas Huadu, Baiyun, Panyu and Nansha. Guangfu line connects the city of Guangzhou to Foshan.

Hours Guangzhou Metro
Guangzhou Metro operates daily from 6 am to 23.30 and during the day carries on average 5.6 million. Passengers. Thus, to transport 1.99 billion passengers in 2013, Guangzhou Metro has become the sixth-busiest subway in the world after Tokyo subways, Seoul, Moscow, Beijing and Shanghai. Guangzhou Metro is 164 stations, including 21 interchange node on the lines of a total length of 260.5 km. Peak hours fall on weekdays from 08:30 to 09:00 and from 18:00 to 19:00
Development of Guangzhou Metro network is scheduled forsecond decade. Three new lines to be built: Line 7, Line 9 and Line 13, Line 6, and expanded line 8. It is expected that the total length of the network will exceed 600 km by 2020.
All subway cars and stations are equippedair conditioning. Each station has up to 8 outputs, and all of them are equipped with escalators. In the halls and passages between stations operate mini-banks, shopping kiosks and machines, book stores, and fast-food. The cars are monitors, which broadcast entertainment programs and news. Announcements made in trains in Chinese, Cantonese and English.

Tickets for the Guangzhou Metro
Tariffs for transportation in Guangzhou Metro currentlytime range from ¥ 2 (two stations) to ¥ 14 (the longest journey). The calculation of the cost of travel is done by mileage: path is shorter than 4 km ¥ 2 for each additional km will be charged ¥ 4 1. After 12 km for every 6 km. After 24 km for every 8 km will be charged ¥ 1. Tokens for travel can be purchased at vending machines, you can also buy the card updated daily. At the entrance to the station marker is applied to the validator, when the output is inserted into the turnstile slot.
Photos of Guangzhou Metro
Scheme of Guangzhou Metro