Water parks in Guangzhou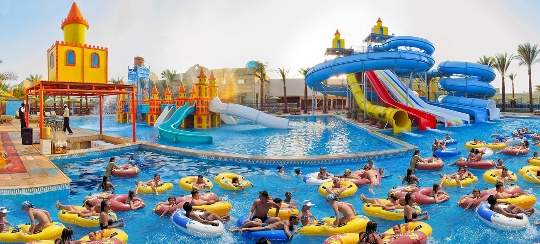 A visit to the water park in Guangzhou will produceoverwhelmingly positive impression on its visitors of all ages - it rides awarded international awards, and in addition, it is renowned for excellent service and pleasant atmosphere.
Water Park in Guangzhou
Waterpark "Chimelong Water Park" features:
"Great super bowl", "is rapidly racing", "gushes track", "Pasta Hippo" (descent from 20 meters high);
Children's small towns with corresponding slides a small height and the angle of incidence;
5-kilometer "drifting river" with water obstacles in the form of bridges, waterfalls, artificial waves (for it is necessary to fuse with the help of an inflatable circle);
pool that simulates waves (one of 9 types of waves up to 1.5 m);
institutions of power.
It is worth noting that on the dance floorarranged performances of dance groups, circus artists and rock bands, as well as a water park often pleases its visitors carrying laser shows, Hawaiian evenings, Brazilian Carnival.
The cost of children (up to 1.2m) entrance ticket -free tickets for people aged 65+ and children growth of 120-150 cm - 85 yuan for adults - 150 yuan. Tickets for the evening are paid on the basis of a different fare: adult ticket costs 100 yuan, and a children's ticket for seniors - 50 yuan.
Vacationers in Guangzhou can have fun even inwater park "Big Hippo Water World" (the average ticket costs $ 20-25) - it will please their "lazy river", children's and huge water slides for adults, pools of different depths and water temperatures, sun loungers and parasols.
Water sports in Guangzhou
For you, is of interest to hotel accommodation with a swimming pool? You can book a room in the "Marriott Guangzhou Tianhe", "The Westin Pazhou", "Langham Place Guangzhou", or another hotel.
Tourists should pay attention to the aquariumOcean World (entrance fee - $ 20) - here you can see more than 10,000 inhabitants, to place in certain sections (there is an aquarium with ornamental fish, seals, pavilion, shark aquarium tunnel with coral reefs, a tunnel dedicated to animals and plants of the mountain rivers and lakes ). In addition, the aquarium is equipped with a circular corridor for review and a hall for performances of artists-animal.
Resting in Guangzhou, do not miss the opportunitygo for an evening stroll through the Pearl River - in the price of the ticket includes the cost base of coffee or tea, but you can make an order for a river cruise with dinner (depending on the class of boat and features a river walk, you pay for it 50-180 yuan; and water travel duration is usually 1.5-2 hours).
Photo