Guangzhou Zoo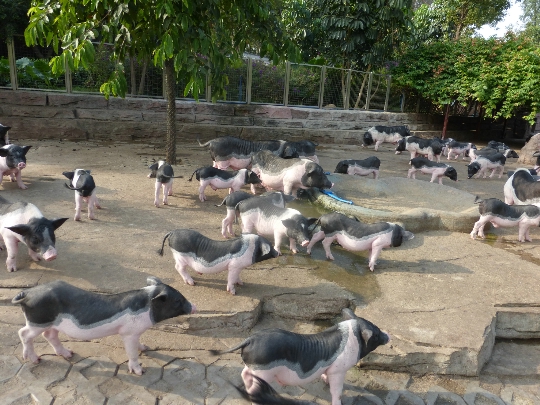 Opened in 1958, the zoo in Guangzhou - oneof the largest not only in China but also Asia. It covers an area of ​​over 40 hectares, where 20,000 animals representing seven hundred species on the planet are living together. Each year, the park is more than four million visitors of all ages from around the world.
ZOO Guangzhou
Even the mention of the names of the zoo in Guangzhouenthralls local kids - the best scenario for a birthday, child's holiday, or just a weekend with the family, than a walk here, it is difficult to imagine.
great scientific and carried out in the parkeducational work. For example, the exhibition pavilion "World of Dinosaurs" is not just talks about the prehistoric giants, but also demonstrates their skillfully made sculptures.
Pride and Achievements
Favorite place for photos of all visitorsGuangzhou Zoo - enclosure with large pandas, but also white tigers, a variety of representatives of group of primates, lemurs and deer cause guests no less positive emotions.
Thematic exhibition represent variousclimatic zones of the planet and animal kingdom. The "Butterfly Garden" visitors entertained hundreds of multi-colored beauties weightless, in the pavilion, "Goldfish" are found amazing underwater inhabitants, and the show "Animal Feeding" - it is an opportunity to observe the habits of our younger brothers.
Guangzhou Zoo is exposed and diverse vegetation. In the shade of tropical trees, you can relax and enjoy the outstanding representatives of blooming flora.
How to get there?
Zoo Address - 120 Xianlie Middle Rd, Yuexiu, Guangzhou, Guangdong, China.
To reach the south gate is possible on subway line 5 train to Zoo Station and rise to the surface through Exit B. There also follow buses B2, B3, B10, 30, 133, 191, 209, 245, 278, 545 and 886.
At the stop Xianlie Middle Road should exit passengers used buses 6, 11, 16, 65, 112, 201, 246, 535 and 833. They fall to the north gate of the zoo.
Helpful information
Opening hours:
From April 16 to October 15, the park is open from 08.00 to 16.30.
The rest of the year from 08.00 to 16.00.
Ticket price for adults and children, whose growthmore than 1.5 meters - 20 yuan. Children growth from 1.2 to 1.5 meters are entitled to a discount ticket price of 10 yuan. Kids go to Guangzhou Zoo for free.
To see the special pavilions, it is most advantageous to buy a combined ticket. The most expensive costs 50 yuan, but it gives the right to attend all the shows.
Services and contacts
In the central part of the park restaurantChinese cuisine, which can be simultaneously up to 300 people for dinner. Ten stores in the territory of the zoo sells drinks, snacks, souvenirs, ice cream and children's toys.
The official website of the zoo - www.gzzoo.com.
Telephone +86 20 3837 7572.
Guangzhou Zoo Photo