Entertainment in Shanghai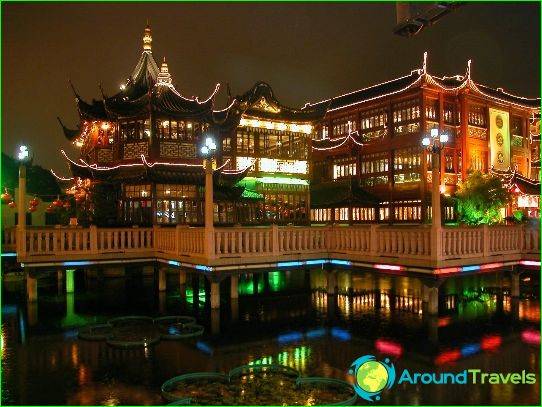 Entertainment in Shanghai will win the hearts of all groups of people: here you can spend time looking at the ultramodern discos, Take a leisurely stroll along the promenade or the Huangpu River.
Amusement parks in Shanghai
"Shanghai Happy Valley": here you will be able to visit the "Promenade of Shanghai" in the "Hurricane Bay", the "gold mine" in "ant kingdom" (total in the park 7 thematic areas). As for attractions, here you will have to wait for "Rollercoaster" (wooden, blue and red, yellow and green), "Free Fall Tower", "Pendulum", "Mountain River". In its program of rest is worth a visit include the 4D-cinema and theater, which showcases dance and acrobatic show. Tip: since the area of ​​the park is huge, standing at the entrance to take a free card, not to miss the fun and know exactly the work rides and the show-programs.
"Dino Beach": then you will wait for the water slides and tunnels, water facilities for children and swimming pools with artificial waves. Bored in this complex will be in the evening when there are performances of musicians, themed performances and discos.
WaterPark "Playa Maya": lovers of water activities are just some of the "Big Wasp", "Snake Ring", "Great sea boa," "Giant bowl", "Eye of the hurricane." Who then will be able to go diving (there is an underwater center where you can arrange for a wedding under water ilirazvlekatelnye program, including performances mermaids) and surfing. If you are tired of crazy slides, you can make a break in the swimming pool with a massage course.
What kind of entertainment in Shanghai?
Do you dream about something unusual? Swim in the pool, which is on the rooftop "Purple Mountain" (May-September).
If you - the active traveler, you shouldrecommend climbing on the climbing wall at the Shanghai Stadium, take part in competitions on the cards in the card-pavilion "Disc Kart", ice skating at the rink "Century Star Skating Club" (if desired for beginners are held individual sessions, and then running two Russian coach ), spend time at the Shanghai pavilion ski "Yinqixing Indoor skiing Site".
Your attention is drawn to the nightlife? Note nightclubs "Node Lounge", "Mint", "Real Love Disco".
Activities for Children in Shanghai
Shanghai Aquarium: when visiting different areas of the aquarium, your child will get acquainted with the penguins, jellyfish, freshwater fish in Africa and Australia, the inhabitants of the Amazon river.
"Changfeng Park": children here like to ride on the glass-bottom boat on the lake, watch the show, which is attended by trained seals and beluga whales, ride the various rides, play areas equipped.
Resting in Shanghai, is to enjoy the city,standing on the observation deck of the TV tower "Oriental Pearl", walk in the garden Purple Autumn Clouds, admire the acrobatic show "Era. Intersection of Time".
Shanghai
Photo