Shanghai Metro: map, photos, description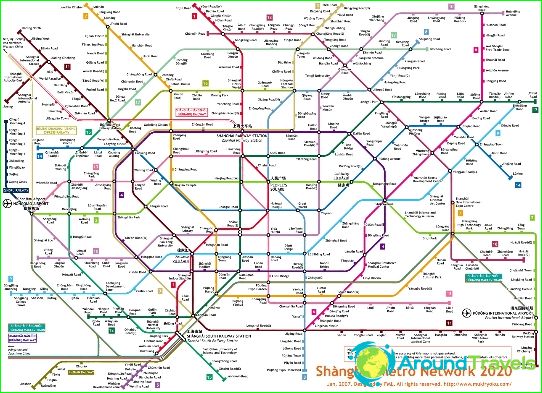 Scheme of Shanghai Metro
Shanghai Metro was opened in 1993, is the thirdMetro in China after Beijing and Tianjin. Since then, the Shanghai Metro has become one of the fastest growing transportation systems in the world, constantly expanding its network.
The total length of 538 km of lines, all 14 subway lines and329 stations - this is one of the longest subway in the world. Shanghai Metro is the third largest in the world by annual passenger traffic -. In 2013, the number of journeys exceeded the 2.5 billion daily passenger record was 31 December 2013 it amounted to 8.898 million passengers.

Hours of Shanghai Metro
Shanghai Metro is open from 5 am to 12 am,interval of trains - 3 minutes. Hours each station is different. Train schedule (first and last) indicated on the bulletin boards of each station. Metro map is the intersection of ring and radial lines. Wherein. oddly enough, the route of Line 4 (ring line) overlaps with the route of Line 3.
Many stations on lines 4, 6, 7, 8, 9 and 10 areprotective shields on the edge of sliding doors with acrylic platform. These screens also appear on the old lines. At the station, People's Square Line 2 platform has automatic sliding security doors at half height.
You go in the subway cars in Shanghai, as in allChinese subways, at the same time - go, go along the sides in the middle. The cars are not separated from each other. Station wagons are announced in two languages: Chinese and English.

Tickets for the Shanghai metro
Tickets for a single trip can be purchased atticket vending machines and at some stations at the ticket office. Ticket is applied to the scanner and the turnstile remains until the end of the trip - the ticket is left at the exit to the turnstile. Reloadable cards can pay for the ticket offices and service centers in the metro stations, as well as in small shops in walking distance, and banks throughout the city. The card is valid on all public transport.
Between the stations of Shanghai Metro is very longtransitions, where are retail stores: kiosks selling digital technology, newsstands, convenience stores and bookstores. ATMs can be found at stations in the center of the city and some suburbs.
Like many other metro systems in the worldthe Shanghai Metro uses a zone system of payment for travel. On the December 25, 2005 moved to Shanghai a ticket of one type for all modes of transport. If the fare exceeds the cost of the ticket, passengers can pay the difference at the box office, located next to the turnstiles.
For retirees older than 70 years of travel toMetro free (except in peak hours from 7.00 am to 9.00 am and from 17.00 to 19.00 on weekdays). To pass they use the social security card with an embedded chip.
Photos of Shanghai Metro
Scheme of Shanghai Metro