Attractions in Shanghai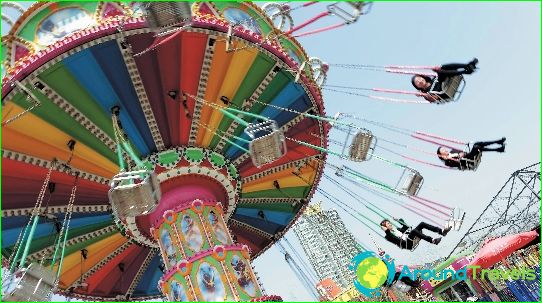 Shanghai - the first city in China, whichI came into contact with the culture of the Old World. Even at that time he was considered the best and could boast that it was from him is largely dependent on foreign relations of the entire state. It does not change it in our time. Shanghai, as before, is one of the leading cultural and commercial and industrial centers of the country, which, moreover, is very popular among tourists. Therefore attractions in Shanghai is not fancy, but the tourist infrastructure here is very high.
This metropolis is so enormous that the inexperiencedthe traveler can easily get lost in it. So start exploring the city better with the most popular routes, and only then to carry out a more detailed inspection.
Amusement Park «Happy Valley»
This Statement Shanghai analogue of the well-known throughout theDisney world. It is located on the outskirts of the city, so from all sides it is surrounded by forests, rivers and canals. «Happy Valley» so huge that it conditionally divided by as much as 7 themed zones. They are significantly different both in design as well as by type of entertainment offered, but in order to fully meet at least one area will have to spend the whole day. Works Park year round seven days a week from 9.00 to 18.00. Very interesting is the payment system, which is as follows:
adult ticket (or for those whose height above 140 cm) - 200 yuan;
children (child growing up to 120 cm) - admission is free;
children (child growing up to 140 cm) - 100 yuan;
women from 65 and men from 70 years - free entry.
Suzhou Amusement Park
Located in Shanghai's suburbs (40 km from the city). One of the most modern and technologically advanced amusement parks in the country. Unlike «Happy Valley» the prices are much more affordable (adult ticket costs only 60 yuan), and the rides are no worse than the last, so there is much more noisy and crowded.
Waterpark "Seaside Maya"
This water park with giant different sizes(200 square kilometers) and a unique water slides. Chinese engineers were able to design them in such a way that the pushing force of water accelerates the people to great speed, so, in fact, these hills are not much different from the US. Only in this case it does not mix up the visitor in the cabin of the train rail, and in a dense stream of water.
Prices are also quite acceptable. The most expensive individual ticket costs 180 yuan, the cheapest children - 110. There is also a family version (two adults and a child). It will cost 400 yuan.
Photos attractions in Shanghai