Shops and markets in Shanghai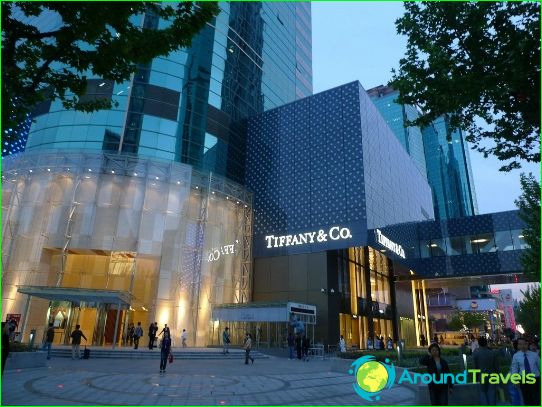 In Shanghai, the countless shops andproducts. Everyone will be able to buy here everything you wanted or did not guess that this exists in the world. Past, present and future are intertwined in this amazing city, which is reflected in the product portfolio and awakens the passion in many shopaholic. In the evening, after combing the shops, the city offers as wide range of leisure options - you can enjoy a massage or spa, sit in a restaurant or hang in a nightclub.
Popular outlets
The first Asian market of jewelry -It located on the street Fu Er. It is considered to wholesale, so the prices are low. Jewellery from pearls you can buy not only ready, but also asked to collect a string of vending pearl beads.
Jinan Yatai Market and the market at Lonhua street - onThey buy a cheap Chinese clothing manufacturers, and branded items and good imitations of them. No souvenirs for family and friends to get away from this impossible. Even here a large selection of watches, jewelery and toys. To get to the market, both need to get out at the metro station "University of Technology".
Branded clothes at low prices, and a lot of shops in the streets Huahay, Central and Northern Tibet, Sichuan.
Dong Tai - antiques market. It is offering products from Chinese porcelain and jade. Art paintings, masterpieces of calligraphic art.
On the streets of Tibet and settled the markets Honjoexotic flora and fauna. Animals, fish, insects, birds, bonsai art - select, buy or just admire and eyes. Most recently, for how to transport all this exoticism through customs, completely incomprehensible.
Muslim markets - on Fridays. For example, the market in front of the mosque Huxi Mosque district Zine An trades predominantly Muslim food.
Kibermart - is the electronics market. There are trading computers, laptops, tablets, phones and other things, as well as spare parts. Such a lot of markets in the city. This stands out easily communicate with sellers who hold the polls in English, which makes the market a popular tourist destination.
Tea Market in the street Dzhonshan C - this is a hugea three-story shopping center, not only tea, but also with objects for tea ceremony. Flavored beverage is allowed to try. If you are a tea connoisseur and gourmet, easy to get into the variety of leaves. For the majority, it is to rely on the results of the tasting of the ancient drink - it fails.
Photos of Shanghai store