Shanghai Suburbs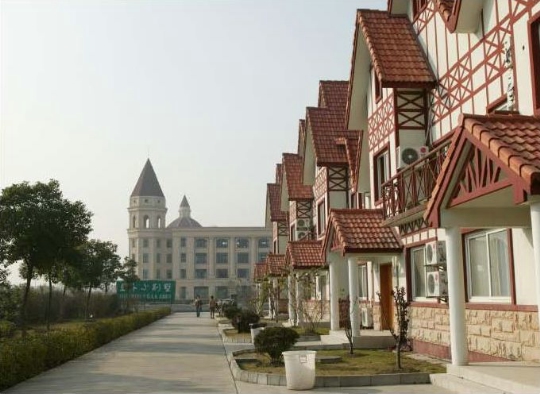 This Chinese city of many definitions ofcycle "most-most". It is the world's largest sea port, the likes of which no one in the country, and the most numerous Chinese metropolis. And Shanghai - an important financial, educational and cultural center, where you can have a great time on a business trip or vacation. Huge city is called the Paris of the East, and the Pearl of the East, and the suburbs of Shanghai is still fraught with many old streets, mysterious legends and authentic Chinese landmarks.
Student mood
To the west of the historic center is convenientlocated most student suburb of Shanghai Songjiang. There are seven major Chinese universities that are taught and trained more than a thousand teachers and students. Campuses in Songjiang campus - is a republic, which has its own cinemas and shops, sports palaces and hostels.
At least the locals are proud of their newWarner Bros., which opened in the suburbs of Shanghai in 2000. It removed a lot of artistic and documentary films, and carry out various TV shows. Buildings studio stylized vintage, and excursions to local Hollywood brings everyone to the beginning of the twentieth century. Among other attractions Songjiang listed many historical masterpieces from different epochs:
Pond drunk Bo was dug and landscaped in the XVIII century in honor of the poet Li Bai, famous during the Tang Dynasty.
The railway station, built in the early twentieth century, is an example of an organic blending of architectural styles of Europe and the East. He is often seen in movies about Shanghai.
Stella Toroni Sutra IX century - the oldest Buddhist monument in the suburbs of Shanghai.
Five pagodas, including square, a height of 42.5 meters and Xilin - 46.5 meters.
Gourmets this suburb of Shanghai has prepared a real treat. The local eateries have a chance to taste real Chinese food.
Requires translator
Going on a trip to Jinshan, worth havingin mind that there is a particular dialect spoken by the locals in the suburbs of Shanghai. He did not understand the rest Shanghaians, and therefore the role of the guide is worth looking abirigena.
In addition to the mainland Jinshan area includes several offshore islands, on which the local travel agencies organize exciting boat trips.
Photo