Water parks in Shanghai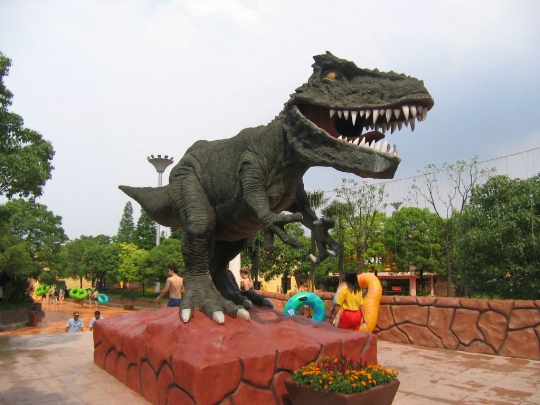 Shanghai travelers will appreciate not only its water parks, and museums, and nightlife, as well as walks along the promenade and water channels.
Water parks in Shanghai
Water park "Dino Beach" features waterattractions (go down with them can be rented on inflatable mattresses and circles), an artificial river that mimics a tropical storm, a swimming pool with artificial waves for surfing, but also pleases visitors evening disco. Entrance fee for adults on weekdays - 120 yuan, and on weekends - 150-200 yuan for children 80-150 cm - 100 yuan.
Waterpark "Playa Maya" is equipped with a slide "BigWasp "(under the action of the pushing force of water" brave "can make several ascents and pickets)," Swift solar maelstrom "(height of the" black hole "- 17 m)," Snake Ring, "" Super Pipe "(descent from the 23- meter pipe 4-seater round), "Marine boa" (descent from a height of 6-storey building), "4 rapid road", "Eye of the storm", "Plaut between heaven and earth," "giant bowl", children's attractions ( "water castle Maya", "Fairy water world"), a swimming pool with artificial waves "Caribbean beach", leisure pool and the spa, scuba center (here you can swim under water, to see performances mermaids use for the organization of underwater wedding services, and after passing the training course receive a certificate diver), shops, restaurants, western and Chinese cuisines. Entrance fee on weekdays - 150 yuan (in the second half of the day - 120 yuan), on weekends - 180 yuan (off night - 140 RMB), children 120-150 cm - 100 yuan (weekend - 120 yuan). If desired, you can buy a family ticket (2 + 1) - it is 340 (on weekdays) - 400 (weekends) yuan.
Waterpark "Dakang Indoor Water Park" famous"Children's corner", "drifting garden" fountains, "family coaster" and other water attractions. On weekdays, visitors tickets cost 70 yuan, and on weekends - 88 yuan.
Water Activities in Shanghai
Would you like to swim in an unusual place? Take a look at the hotel Purple Mountain - pool located on the roof, where you can swim in from May to September for 120 yuan (do not forget to take a hat).
Visitors can spend time in a Chinese bath"Athens Palace" - in the men's and women's lounges, you can find a dry sauna and steam, jacuzzi, swimming pools filled with hot and cold water (add some milk or rose petals). And then you can use the spa- and beauty treatments as needed.
Always worth a visit in Shanghaiaquarium, where equip 4 underwater tunnel. Here visitors can see the exhibition, divided into nine thematic areas (in front of their eyes appear electric eel, giant salamander, the Chinese sturgeon, and alligator, spotted seals, horseshoe crabs.
Photo