Where to eat in Shanghai?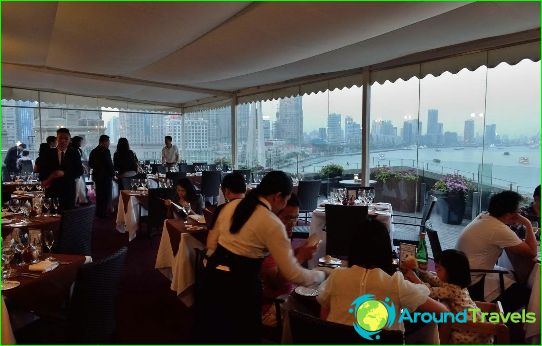 You do not know where to eat in Shanghai? City welcomes guests restaurants with different cuisines of the world (from the Indian to the Japanese). Here are the street, completely studded with restaurants, pubs, German, Italian pizza ... In the local restaurant you can try traditional Shanghainese dishes - fried noodles with shrimp, crab cakes, dumplings with shrimps, garlic eel in wine.
Where to eat in Shanghai inexpensive?
Cheap meal can be on the street - hereselling a variety of kebabs, partridges, tofu, dumplings. One of the cheapest places is Shashi Xiaochi Shijie - here you will be offered to taste the famous soup-noodles. It should be noted that low-cost dining options should be sought on the street in Nanjing Bund area.
Where to eat in Shanghai delicious?
"Shanghai Old Restaurant": in this institution, founded in 1875, more than 100 guests are treated to local cuisine, stuffed duck, grilled eel rings, fried shrimp, Babao sauce ...
Lao Beijing: here is come to eat Peking duck (it is cut into thin slices). As a complement to the dish you bring young onion, mandarin cake, sweet noodle sauce and sauce "hoisin sauce". After the meat followed by a supply of soup, which is made from pieces of duck left after cutting.
M on the Bund: in this restaurant menu includes gourmet Chinese cuisine - foie gras, lamb meat on the grill, marinated salmon.
Whisk Choco Caf: here is come to enjoy snacks, desserts and drinks (be sure to try a hot chocolate and a variety of Spanish desserts from chocolate).
CJW: This one of the best types of restaurants you will be able to stay for a comfortable sofa, enjoy the taste of dishes from lobster and other seafood for live jazz sounds (in this institution are the jazz artists every day in the evening).
Gastronomic tours around Shanghai
As part of a gastronomic tour of Shanghai youwaiting for a hike in the tea market. In addition, you will visit the Chinese tea ceremony, learn how to choose, brew, store and drink tea. If desired, you can look at wine shops and wine bars, as well as to taste Chinese wines.
Your gastronomic tour caninclude a visit to the restaurant "Huntsitszi" ( "The Red Rooster") - apart from the fact that here you will try national dishes, you'll be amazed by the fact that the waiters are moved on rollers for rapid service guests have come.
In Shanghai, you will see the TV tower "PearlEast, "Jinmao Skyscraper, relax in the parks with fountains, canals and lakes, visit the museums and the Shanghai terrarium, as well as in authentic restaurants where you can get acquainted with the Chinese and Shanghainese cuisine.
Photo