Zoo in Shanghai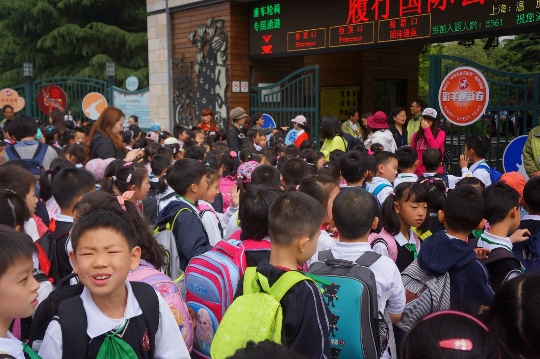 Like all Chinese zoos, Shanghai canboasts an amazing variety of animals represented in it and convenient facilities, allowing to spend a whole day here does not seem tedious or adults, no kids. Appearing on the map in the middle of the last century, Shanghai Zoo has now become home to more than six thousand animals, including many rare and endangered.
Shanghai Wild Animal Park
Shanghai Wild Animal Park - a name thatIt leads to thrill all fans of a family holiday in nature. This created ideal conditions for the content of brethren and all the guests spacious, open-air cage and lands feel here no less comfortable than in their natural habitat.
Huge elephant pavilion, spacious paddockfor giraffes, playground for Australian kangaroo Australian perfectly simulates natural conditions, crocodile island, Bird Park, Swan Lake - this is only a small part of the diverse list of interesting places that are available for excursions.
Pride and Achievements
Shanghai Zoo - one of the few in the world wherecontains amazing animals, which have become a symbol not only of China, but the World Wildlife Fund. Giant pandas live here in a spacious hall and watch them for hours without any interference in the form of cells or grids.
Plush Panda - the main and most popularsouvenir for visitors to take away from the zoo in Shanghai. Souvenir stalls, shops with snacks and beverages are located throughout the park and visitors can have a meal or quench their thirst, without detracting from the walk.
How to get there?
Location of the zoo - No.2831 Hongqiao Road, Changning District, Shanghai 200000, China.
You can get there by train 16 Metro line to stop the Wild Animal Park.
Helpful information
Shanghai Zoo is open 365 days a year, but opening hours vary, depending on the season:
In the winter months from December to February inclusive park opens at 08.30. Tickets sell stop at 15.30, and visitors must leave the territory at 16.30.
The rest of the year, the zoo is open from 08.00 to 17.00. The box office ticket sales end one hour before closing.
The price of admission to the Shanghai Zoo:
Adult - 130 yuan.
Visitors from 60 to 69 years - 117 yuan.
Seniors over 70 years - 65 yuan.
Children 6 to 18 years and students are full-time study - 65 yuan.
Children under 6 years old or shorter than 1.30 meters, the disabled, war veterans and other privileged categories of visitors are entitled to free access to the zoo. All rights to benefits should confirm an identity card with a photo.
Services and contacts
On the territory of the Shanghai Zoo has several restaurants Chinese cuisine and fast food chains.
To move, you can take a scooter or a bike rental.
Official Site - www.shwzoo.com.
Phone +021 6118 00 00.
Zoo Photos Shanghai