Viewpoints Beijing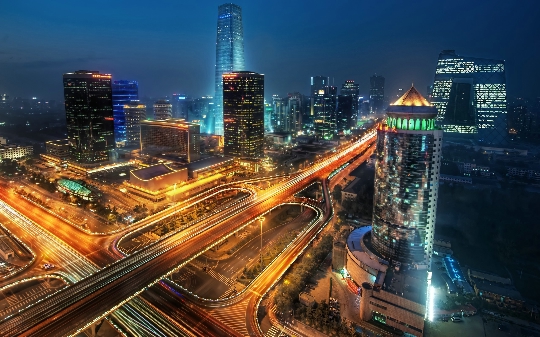 The rise to the observation deck of Beijing will be rewarded by the contemplation of the Forbidden City, the Temple of Confucius, and the great bell, Tiananmen Square and other objects.
Central Radio & TV Tower
The building height of 400 meters, has:
restaurant on a rotating platform at a height of 221 m (in Chinese menu, European dishes, grilled dishes);
underwater world "Taypinyan" (located under the tower): moving on transparent tunnel (length - 80 m), will be able to see the marine life;
one of the best lookouts in the 238-meterheight where you can see the Summer Palace, the Western Hills, the White Pagoda (park "Beihai") and other places of interest (here set a powerful telescope).
And Central Radio & TV Tower is interesting races taking place every year, the essence of which - to quickly overcome more than 1400 steps leading upstairs!
Useful information: visiting hours - 08: 30-22: 00; ticket price - 75 yuan / adult, 35 yuan / children (growth - 1.2-1.4 m).
How to get there? Exit at the stop must be Hangtian Qiaonan, pre-sowing on one of the buses number 8, 374, 64, 40, 624, 323, 368, 836 or 944. If you decide to take the subway, you need to go to 1 line to Gongzhufen station (address: Haidianqu Xisanhuanzhonglu, 11 hao).
Jingshan Park
Since the park is divided into five hills, the topeach of which is crowned by the palace in the Chinese style (especially popular "Pavilion of Eternal Spring", where the gilded Vairochana Buddha statue), then with artificial hills (height - about 45 m) well visible center of the Chinese capital with its sights sites (it is advisable to take with you a pair of binoculars to see the city's architecture and streets).
The park is especially loved the elderly - they are walking (park is wonderful during flowering peonies and cherry), sing, dance, draw, participate in cultural events. Ticket price - 10 yuan.
How to get there? Before stopping Jinghan Dongmen bus №124, 210, 111, then - go to the east gate of the park; Gugong to stop the bus number 103, 2, 109, 1, 685, 202, 814, 124, then - go to the southern gate of the park.
Address: 44 Jingshan Xi Street.
Observation tower Linglong Olympic Park
We strolled along the avenue of the park on the way to bedating cafe, exhibition halls, sports arenas, garden stones, artificial lake, pavilions and bridges. To get around the entire Olympic Park is hardly enough to one day (the walk can be walking, cycling or on the vehicle), but to explore its territory and attractions can be grounds for a review of the tower Linglong.
Location: North of Beisihuanzhong Road, Chaoyang District.
Photo