Shops and markets in Beijing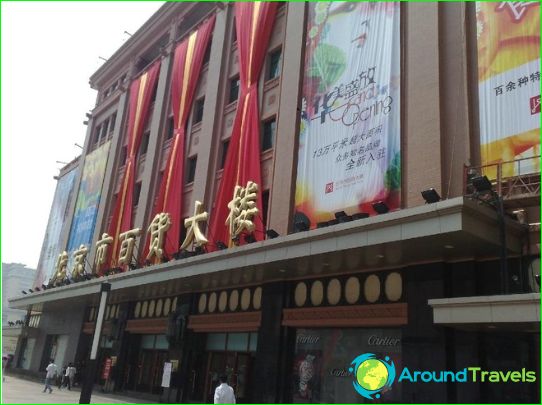 Some people believe that shopping in Beijing is extremelyprofitable. Probably, it is due to cheap Chinese goods of questionable quality, which filled all the flea markets in the world. However, going to Beijing, the tourist is unlikely to buy anything for their own needs in wholesale quantities, hoping to save a little. Original things brands are in Beijing is quite expensive and are also not intended buyers. Rather, that the race to the shops a tourist would try to find a decent copy of the well-known brand or just a beautiful and functional item. To do this, you have to work hard. And even finding the desired, for example, a good coat, the tourist will appreciate that the economy is not that great. However, if there is free time, why not take a stroll to the shops and markets of Beijing.
Popular shopping places
Factory Stores. In Beijing, any travel agency includes a mandatory program visit the factories owned by the state - silk, pearl jade, cloisonne enamel. According to the factory shops of tourists no leads. Production processes are illustrated in special exhibits. In a live oyster will show you how to extract from it pearls, will try to stretch the small circle of the cocoon of the silkworm to the size of the blanket, tell how to distinguish fake pearls, jade, silk. After fascinating excursion tourists get in the trading rooms, which are offered to make the purchase. Products of excellent quality out there, but it is better to treat them as museum pieces, because prices are inflated and clearly designed for tourists. The market will be cheaper. However, not the fact that somewhere will fall just such a high-quality thing. So decide for yourself whether to buy or not to buy. And in terms of cognition and aesthetic pleasure similar tours definitely not disappoint.
Beijing markets. Markets in Beijing weight: Silk, Yashou, Yabalou, Pearl, Hidan, Shiji. Most of the guests outfit on them by the very sturdy counterfeiting or other Chinese goods. Do not remain in the loser can only managing to hard bargain. Another way to save - to unite for the "shopping - interests" with the comrades of the group of tourists. In the case of even small bulk purchases traders more willing to throw off the price. In any of these markets you can buy products of all kinds of groups, that is, the Silk and Pearl Markets offer a much larger selection than silk and pearls, respectively.
Wangfujing and Xidan. These shopping streets you can see all the products of famous brands in boutiques and shopping centers. In Russia, these goods too expensive, so you can find something cheaper than at home. Especially it concerns the quality of fur in special departments of shopping centers.
Panjiayuan Market, streets and Lyulichan Dachzhalan -This site souvenir trade, small artistic products of local artists, antiques. The streets are of great tourist interest, so they are well worth a visit to explore the Chinese culture.
Photos Beijing store