Beijing Streets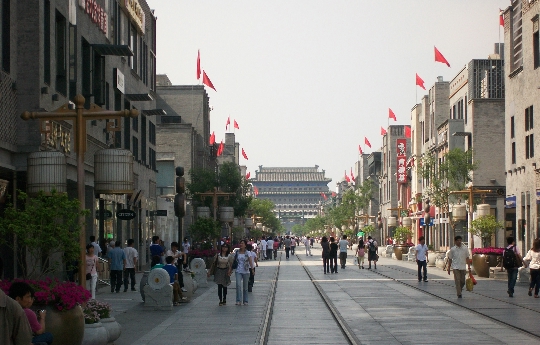 Cultural and political center of China is considered to beBeijing. It is the capital of the country and one of the oldest cities on the planet. Beijing's streets are diverse architectural styles. They located the house with centuries of history, monuments and luxury office buildings and other main streets of Beijing:. Chanantsze, Wangfujing, Chanantsze, Xidan, Lyulichan, Xiu Shui Street.
Central street Chanantsze
The main street of Beijing is considered eternal Prospectcalm (Chanantsze street). The length of this highway is about 40 km. The width of some of the areas is 100 m. The street is the busiest in the capital. Both sides have a huge avenue filled with shopping malls and shops. Street Chanantsze originates from the bridge Balitsyao and ends in Shijingshan district. It features a large number of green spaces, so is ideal for pleasant walks.
Wangfujing Street
Trade Centre in Beijing is considered streetWangfujing. Locals refer to it the Golden Street. Wangfujing 7 was formed centuries ago. It has a length of approximately 810 m. Along the street there are more than 200 stores. Partially Wangfujing is a pedestrian. Huge crowds of people visit the street every day.
The most popular place on Wangfujing consideredStore Beijing Department Store. In the northern part of the street is Donghuamen night market. Here you can buy products and rare Chinese dishes. Wangfujing - this is one of the most popular gastronomic street in Beijing. It is full of cafes, restaurants and street rows of food.
Beijing Arbat - the street Lyulichan
Pedestrian street Lyulichan included in the list of the mostknown streets of the capital. On it are shops that sell antiques and works of art. This street is like a museum located in the open air. It is located near the city center. Lyulichan length is 750 m. The street was founded during the reign of the Tang Dynasty. Today, its western part is occupied by antique shops and craftsmen's workshops. In the eastern part of selling products from beautiful stones, including ornaments made of jade. Many hiking trails are across the street Lyulichan.
Lanes of Beijing
Earlier the center of the capital from other quartersseparated by walls. Currently, Beijing's alleys (hutongs) are an interesting highlight of the city. Lanes - narrow streets, passing between the main avenues and streets. The most ancient alleys are located between the streets of Duns' datsze and Chaoyanmenney. They represent a bygone era. As the metropolis of the number of lanes in it is reduced.
Photos of Beijing streets