Water parks in Beijing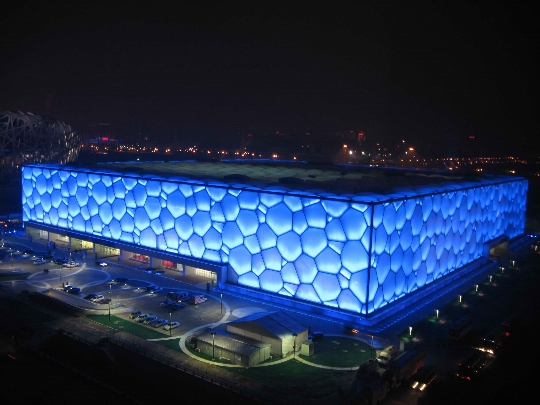 In addition to the pagodas, ancient palaces and temples, Beijing is famous for its water parks - travelers do not recommend them to deprive their attention.
Water parks in Beijing
Waterpark "Water Cube" offers:
13 slides: "Bullet maelstrom", "Tornado" (100-meter pipe), "Aqua-loop" (equipped with a capsule for the acceleration of gravity), "Downhill" (speed - 6 m / s);
spa, swimming pool with artificial waves (wave height up to 2 meters) and a "lazy river";
children's area (there are slides, water attractions, geysers, tilting every 2 minutes barrels of water);
cafe (you can order salads, sandwiches, soft drinks) and souvenir shops.
In addition, there is a water park scene - hereconducted a fascinating show program (dance shows, interactive game "Sea Dream", "Festival of Poseidon"), and behind it - the screen on which show films, entertainment and broadcast what is happening in the complex. Important: in the "Water Cube" is forbidden to bring food and drinks, mats and boats for recreation, and because it does not give shampoo, towel and cap for swimming, some of these things it is advisable to take care of yourself.
Entrance fee: 1.2-1.5 meter children (up to 1.2 m - free) - 220 yuan (all day), adult - 260 yuan / a day and 220 yuan / night ticket; rental inflatable mattress - 50-150 yuan; Rent a locker (here you can leave things and money) - 20 yuan.
Waterpark "City Seaview" pleases visitorswater slides, including children (guests are offered to rent a rubber ring - 10 yuan + a deposit of 50 yuan); trigger ball; massage, fishing, swimming pool over; bath with thermal water; pool bar and a restaurant with cotton material and Western dishes.
Entrance fee: adult ticket - 70 yuan, a children's ticket (children up to 140 cm) - 50 million yuan; use a ball for walking on the water - 30 yuan, a playground for beach volleyball - 100 yuan / 1 h; luggage storage - 15 yuan by 25 yuan / bail.
Water Activities in Beijing
Holiday-makers in Beijing should pay attention toUnderwater World "Taypinyan" (input - 80 yuan), located under the tower of the Central Television: moving on a transparent tunnel, you will see the river and sea fish. It is worth noting that the aquarium is home of the Penguins (here you can "communicate" with Humboldt penguins from Peru); section of a small pond with colorful coral and tropical fish of rivers; Touch section (offers touch sharks and other underwater inhabitants); Presentations section, where you can attend the show seals (animals perform tricks with rings, playing with balls) and see the process of feeding sharks (divers wishing to tell the rules of use of underwater equipment and offer them to communicate under water with turtles and sharks). And to complete the entertainment program you can visit the Underwater Western restaurant (the menu will please the rich and soft music).
Photo