What to do in Beijing?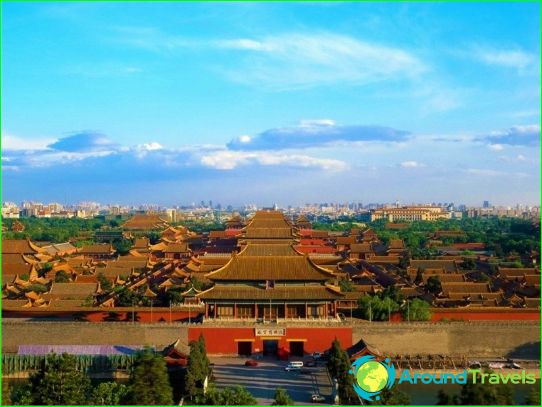 Beijing is famous for its beautiful ancient monuments and historical relics related to China's imperial past, as well as a host of modern entertainment.
What to do in Beijing?
To visit the Forbidden City (palace complex);
To visit the Summer Palace - a well-preserved imperial garden;
Admire the Temple of Heaven;
Go to a Beijing opera;
See the presentation of the masters of Kung Fu in one of Beijing's theaters;
Go on an excursion to the Great Wall of China.
Things to do in Beijing?
Arriving in Beijing, be sure to take a walk onthe main square of Tiananmen, to look at old maps of the sky in the Beijing Observatory, see the TV tower in Beijing Haidian District, go to the underwater world Aquarium Taypinyan, stroll through the Imperial Summer Palace Park and relaxing stay.
Wishes to see the acrobatics andgymnastic tricks can satisfy your desire in Beijing circus and fun from the heart - the Beijing Chaoyang Theater (then arranged an incredible and spectacular show).
With children, you can go to a children's tourBeijing - you will be able to see the Summer Palace (there is a lake, gardens, hills and pavilions), go for a ride on a boat along the palace to visit Beijing Ocean Park the Aquarium and Beijing Zoo, which is inhabited by pandas and other cute animals.
Children should be kept in an amusement park HappyValley (area Shijingshan) - in this realm of attractions, fairy tales and cartoon characters will be bored (which only cost three types of roller coasters!) Not much fun you can spend time at the indoor water park "Water Cube", famous for its water slides "bullet maelstrom" "Tornado," "downhill". A water park "City seascape" will delight you with water slides, a children's water attractions, starting the ball, fishing, massage and swimming pool over.
For shopping it is advisable to go to the streetWangfujing - here you will meet souvenir shops, stores and supermarkets where you can buy clothes, household appliances, fur and leather goods, food, sporting goods, porcelain Buddha statues. A huge selection of products at liberal prices can be found on Yabaolu Street (a street wholesale shopping) - here you can buy baby products, sports and branded items, including fine coats of sheared mink. Buy anything you want, including inexpensive clothing can Syushuy on the street.
Lovers of nightlife should spend time onSanlitun street located here bars, cafes and nightclubs. From close to the Workers' Stadium, famous clubs Viks and Mix, and interesting places such as The Den, and Babyface.
Ancient temples and palaces, museums and galleries, markets andshopping centers, modern skyscrapers unexpected forms, night bars - all these attractions of Beijing will raise the interest of tourists here for the tourists with different tastes.
Beijing
Photos where you can go to Beijing