Beaches in China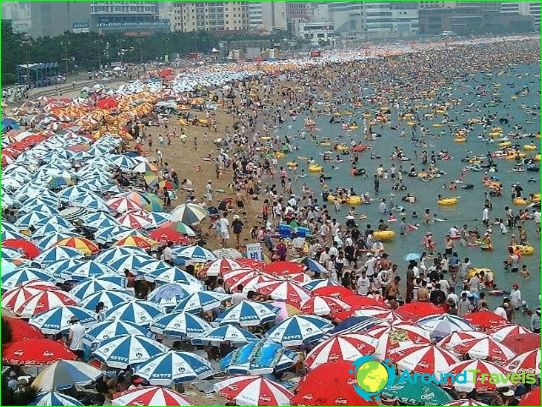 With the arrival of summer, it's time to decide whatChina's beaches should go this year. Undoubtedly, the more famous of them are close to the province of Hainan, but great beaches are also found in the northeast of the Republic of China.
China's coastline stretches for more than 18thousands of kilometers and includes many great beaches for an unforgettable vacation. China's shores are washed by Huanhayskogo, Bohai, East China and South China seas. The best sandy beaches are China Qingdao, Sanya, Xiamen, Beidaihe, Beihai and Putu Island.
Note some of the places where is best place to go if you want to relax and soak up the sun or enjoy the waves.
There is a place called Beihai ProvinceGuangxi, which is located in the southwest of China, here you can find beaches that are likely to give odds to more luxurious in Hainan Province. It is a city which is a couple of thousand years, then you can dip into a piece of years have passed, admiring the old buildings and local architecture, silver fall on the sand at the beach, located approximately ten miles from Beihai. The snow-white sandy beach here stretches for about 2 km. But you can get here by paying 25 yuan as an entrance fee.
Dalian City, is the second-largest,town in northwestern Liaoning province, it demonstrates an excellent combination of the city is remarkable and dramatic beach holiday. Beach Tiger gives you the opportunity to admire the majestic statue of marble tigers or visit the nearest amusement park, or visit the Polar Aquarium. The beach here quite rocky and if you want a quiet tide, it is best to go on Bangchuydao Dzhuggu that is 5 kilometers from the central city. There is a beach, which is preferred among many of the most influential people in China. There is and Fudzhiaskhuang Beach, offering cheap bathing, usually for about 5 yuan. Swimming is perfect and the Golden Stone Beach, 60 kilometers north of Hangzhou. Here you can try your own hand at a game of golf.
However unconditionally Hainan Island, can beconsidered the capital of China's beaches. It is worth to soak up the sunshine and enjoy the heavenly surroundings, which is equivalent to rest on the best resorts in the Caribbean. Sanya City is here the main sitting area and of course the most popular tour. route. This part of the island affects dazzling white sandy beaches and palm trees, boulevards leave unmatched charm.
Going on a trip, you will get positive emotions, and the local beauty and extraordinary culture will make a lasting impression on you. Have a good trip!
Photos beaches in China
Beaches in China