China Holidays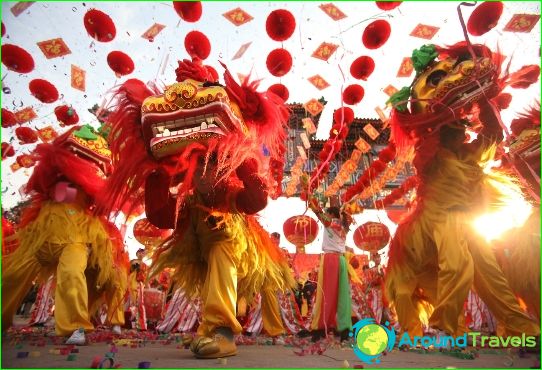 China Holidays - a bright and colorful event,for which many tourists go to the special stages in the country. In China celebrate national and local, Chinese and borrowed holidays and festivals. And since many holidays are tied to the lunar calendar, each year they manage not to the same days.
Major holidays and Chinese festivals
The festival of the cherry blossoms (Taiwan): annually in February in the village of Formosa arranged a holiday, during which you can not only enjoy the scent of flowers and the beauty of the trees, but also to see the light and music show (on the trees hang special lights that constantly change color at night, creating color patterns).
Spring Festival: In January-February, the Chinese celebrate Chinese New Year. On the eve of all go to shopping and the holiday itself noted in the family circle, exposing the table festive dishes. As for the street performances, for the residents of Chinese cities organize various activities such as exhibitions and performances of paper lanterns dancing lions and dragons. The advent of the New Year symbolizes the defeat of the monster Nian (Chinese deterred by its noise, light, red ornaments). During holidays, the Chinese guests on the go and visit temples.
Dragon Boat Festival: during the festival (it lasts 3 days) on the rivers of China appear colorful boats, stylized dragons. The highlight of this event are the boat races.
International festival of kites (20-25April): In this period, organized a competition for paper snakes. In addition, if you wish, you can visit the Museum of kites and visit the demonstration of their production (demonstration workshops conducted Chinese masters).
International Festival of Confucius(September-October, the venue - the city of Qufu, Shandong Province): at this time, anyone can take part in the funeral rites, to visit the various exhibitions, homes, museums, and the temple of Confucius grove, at the family cemetery.
Tourism Events in China
For all those wishing to organize a variety ofexcursion programs, for example, involving a visit to the Shanghai History Museum, the Garden of joy Yu Yuan, the TV tower "Oriental Pearl", as well as a walk in the shopping street Nankinlu. And the pilgrims can go to Tibet Saga Dawa Festival (May). At that time, celebrated on the day of birth, enlightenment, and the reincarnation of the Buddha Sakyamuni, as well as to travel to Mount Kailash.
China - a storehouse of secrets, traditions and age-old wisdom. All this, as well as unique festivals attract tourists from all over the world.
Photo