China Kitchen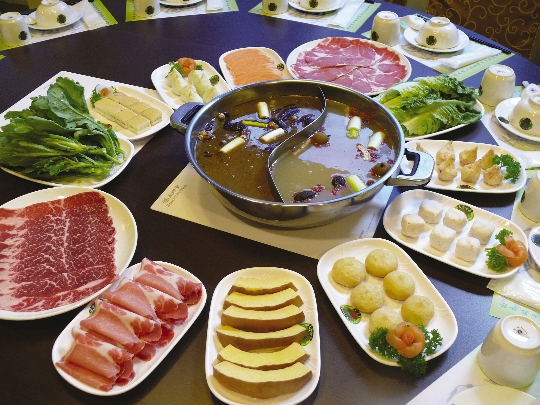 Cuisine of China - a regional Chinese cuisine, have common features (foods cut into small pieces, there is no need to further carve the finished dish on a plate).
National Cuisine of China
In general, Chinese cuisine is based on theusing rice, vegetables, cereals, soybeans. It is worth noting that the role of rice in China is enormous - it is a complement to any dish (rice prepared as powdery and liquid), but in North China in addition to consume rice noodles, which is steamed.
In Beijing cuisine is dominated by meat dishes(Lamb, Peking duck); in Cantonese cuisine - fish dishes and innovative recipes for cooking meat that uses insects, cats, snakes, dogs; in Szechuan dishes are baked or steam treatment (try the duck, which is wrapped in green tea leaves and baked, or chicken with peanuts); and Shanghai cuisine in dishes of meat prefer to add rice vodka and a variety of spices, as well as here in favor of exotic seafood in a shaggy freshwater crab, eel and octopus.
Popular Chinese dishes:
"Dim Sum" (steam dumplings, served in baskets made of bamboo);
noodle soup with mushrooms;
"Hunguygo" (sweet rice cakes);
cake of soya stuffed with fish;
pork cooked in sweet and sour sauce.
Where to try the national cuisine?
Going to a national institution, it should be borne in mind that there are first served tea, then cold appetizers, hot dishes, rice, and only after all the above - soup.
In Beijing, you can look at "Liqun Roast DuckRestaurant "(here perfectly cooked Peking duck), in Shanghai - in" Jia Jia Tang Bao "(a specialty of this institution are Chinese dumplings: you can order dumplings steamed crab, pork and other fillings), in Hong Kong - in "Tang Court" (guests are offered to eat crispy eel with lemon and honey sauce), Guangzhou - in "Restaurant snake" (at this establishment will appeal to fans of the exotic: it serves all kinds of dishes from snakes). Tip: it is recommended to enter the Chinese guests in the restaurants that are licensed to service foreign tourists (it is written in English, hang in a prominent place).
Cooking classes in China
In Chinese cooking courses in Beijing, you will learncook Chinese noodles, duck, dumplings, dishes in sweet and sour sauce, and hold lectures on Peking duck (the program is designed for 5 days, after which the participants were given certificates).
Gourmets visit China advisable podgadatfor the celebration of the International Food Festival (Guangzhou, December) - in the ranks of the traditional Chinese food they could eat dishes of Guangdong Province (stew of meat and rice).
Photo