Metro Suzhou scheme, photos, description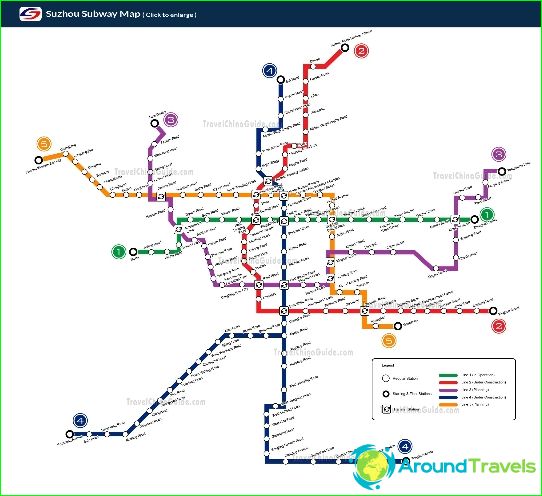 Driving Suzhou Metro
Metropolitan Suzhou Chinese officialIt called Suzhou city rail transport. His first line was put into operation in 2012. Suzhou Subway has two operating lines on which to enter, exit and transfer of passengers opened 46 stations. The total length of subway lines Suzhou is 52 kilometers.
The first subway Suzhou branch markedon urban transport schemes in red. C It stretches west to east through the city center and is connected to the industrial outskirts of him. On line operates 24 stations, it serves more than twenty compositions, each of which is linked by four cars. The length of the "red" branch is about 26 kilometers.
The second line of the subway Suzhou has a bluemarking the Schemes. Its length is more than 26 kilometers, and for the needs of the passengers on it built 22 stations. The route runs from north to south, and starts from the railway station, Shanghai - Beijing, which run high-speed trains. Next "Blue" twig is laid through the business center and the main train station, and it ends to the south within Vuzhonga - the special economic zone of Suzhou.
Each Suzhou Metro stations are equipped with elevatorsfor invalids. Street signs in the direction of the metro stations are equipped with a recognizable logo, and the names of the stations they are duplicated in English. Two languages ​​are written the names of the stations and on the spot. Information boards on the platforms can provide information about the ranges of movement of trains and the expected arrival time of the next composition. Some Suzhou Metro Station are particularly design and decoration is a masterpiece of modern avant-garde art.
Photos of Suzhou Metro
Driving Suzhou Metro