China drink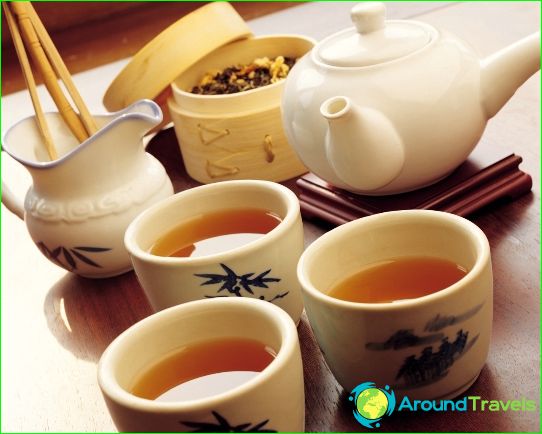 Chief of Russia's eastern neighbor, China annuallyIt attracts more and more tourists. The vast territory, many architectural and historical monuments, rich cultural traditions - all this is a significant reason to visit the neighboring country. Food and beverages in China - a separate occasion to buy a ticket to China. In the world every year are becoming increasingly popular traditional dishes of eastern masters, as evidenced by the hundreds of Chinese restaurants in many countries.
China Alcohol
At the entrance to China notIt must be in possession of more than one and a half liters of alcoholic beverages per person. Removal of alcohol is not limited, and the price of alcohol in the Chinese do not seem high, even the most frugal traveler. Half-liter bottle of spirits, such as vodka, liqueurs with a snake, is from 30 to 50 yuan, depending on the variety (for 2014 mid-year prices). During the famous vodka "Maotai" will have to pay up to $ 20, but drink half a century of exposure is worth it.
The national drink of China
The main drink of China and the hosts and guestsunanimously consider green tea. Chinese tea culture formed by centuries, and today the tea is referred to the list of the seven things that are consumed on a daily basis. Sharing Tea Party does not require a special occasion, however, there are important circumstances in which China's national drink is served by all means:
As a sign of respect for elders. Respected members of the family and relatives of young people are often invited to tea at leisure.
As an important part of family gatherings, which attracts children who left his parents' house.
The ritual in the wedding ceremony as a sign of family unity. Tea party allows to meet numerous relatives.
A cup of tea can serve as a symbol of apology and acceptance of his own wrong.
Chinese Kung Fu Cha tea ceremony served inall times and only way to maintain tradition. In the classical event older family members teach young people not only to welding processes, but also the traditional rules of the beverage supply guests.
China Alcoholic Drinks
For those who prefer stronger drinks,in China there are many varieties of alcohol. The most popular intoxicating - vodka and beer. The first differs unusual taste, as it insists on a variety of products such as vegetable or animal origin. Weak Chinese alcoholic drinks - a beer and rice wine.
Photo