Prices in Sanya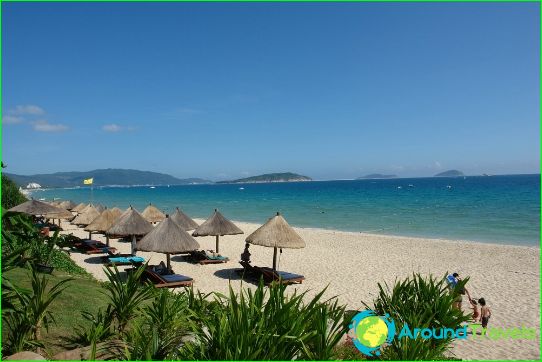 Resort Sanya is on an islandHainan. This is a very popular place among fans of high-quality beach holiday. Sanya is one of the most comfortable resorts in China. The climate is favorable for year-round recreation.
tourist accommodation
Tours to this resort an affordablevalue. Sanya is the best choice for budget travelers. In the city a lot of five-star hotels, but the fee for accommodation are lower than at other resorts. In Sanya, the hotel has a medium level. Places they have to book in advance as they are very much in demand. Cost of the tour depends on the level of the hotel, the saturation of the program and the number of excursions.
The most prestigious hotel in the resort is consideredHotel Complex 5 * - Mandarin Oriental. It is located on the beachfront and offers high-quality service. The hotel is designed for wealthy tourists. Each room features luxurious furnishings. Remove the double room for a day in this hotel can be for $ 380-650. Room rates depend on the environment, room size and type of windows. Other five-star Sanya hotels offer rooms for $ 500-600 per night. Remove private villa is available for $ 3500. Accommodation in 4 * hotel will cost from $ 170 per night.
Entertainment in Sanya
The city operates a variety of shoppingcenters, so many tourists enthusiastically engaged in shopping. Good shopping can be done at the Shenzhen market. The resort is famous for its pearl markets. It made torgovatsya- buyer can achieve lower cost of goods 2-3 times. Another popular pastime in Sanya - beach holiday. Beaches resort owned hotels. Visit them only for a fee.
During leisure tourists buy variousexcursions. Very interesting excursion to the park "Edge of the World". It costs $ 30 per person and takes 3 hours. Excursion to the Gulf "Asian Dragon" on the island of Hainan will cost $ 35 per person. At a distance of 40 km from Sanya Resort is a Taoist center Dun Tien. Previously, he was a tourist area "Wonders of the sea and the mountains." Bus tour to this place takes 4 hours and costs $ 35.
Overall, Sanya tour cost is inexpensive. If you order several excursions, you can get $ 650 for two (excluding purchased souvenirs).
Power holidaymakers
Sanya happy abundance of good and inexpensiverestaurants. You can eat also in the hotel. Many of the resort's restaurants specialize in seafood. There you can enjoy delicious dishes of fish, squid, crabs and other sea creatures. Kitchen restaurants and cafes - a predominantly Chinese national dishes. Peking Duck is just $ 13, beer - $ 1-3, fruit - 2-6 $. The town has a restaurant serving Russian cuisine.
Photo