Shopping in China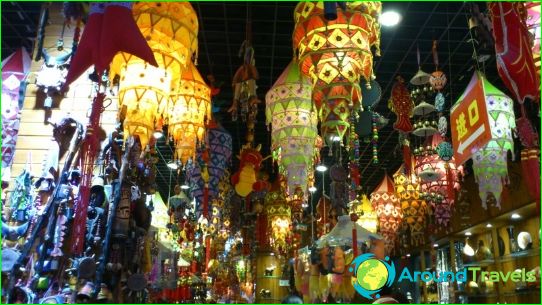 The mysterious and colorful China - tourists comehere not only for impressions, but also for shopping. Two of the most famous shopping legends of China - the whole product counterfeit and substandard and everything is cheap. In fact, all have been wrong. In China, there are many luxury brand shops and authentic goods. In Beijing, Shanghai and Guangzhou have whole streets of luxury boutiques, some are held constant sales.
Popular shopping
China has made buying products made of silk -blankets, pillows, clothing, and accessories. The market offers a scarf or dress with a label "100% Silk» at a price within $ 100. Be sure - acrylic fake. Silk - expensive material, it is necessary to buy in specialty stores or factories, where you will be given a check and be sure to provide a certificate for the goods.
Jewellery, particularly of silverpearls, too, need to buy in places with a license and willing to provide a guarantee on the product, otherwise you can buy plastic "pearls" in the frame of an unknown metal at the price of jewelry.
When buying electronics, pay attention tobuild quality, contact the manufacturer, the existence of guarantees in your country. Be sure to check all functions of the device purchased on the spot. And remember that even in China a good thing can not cost very cheap. Cheaper to buy equipment in large specialized stores.
Most tourists buy fur in China. In addition to checking the quality of the fur, joints, fasteners and pads, you need to bargain. Sometimes the price can be reduced very significantly.
Bags of different sizes is best to buy in small shops or the mall, be sure to bargain - in China, the seller would have to name the price is 5-10 times higher than the real one.
Chinese tea offers to buy the factorytea as expensive and exclusive, but do not rush - the nearest supermarket, you can find the same sort of a less exorbitant price. Teapots, pitchers, mugs - think before you buy, whether it is necessary to carry to distant lands that are sold near the house on the market.
Be sure to buy sweets from China, they are inexpensive, and we just do not buy this.
China has always been a country with a population surplus andlack of food, so eat everything here. And too dry - seafood, octopus, bugs, worms, squid, different saltwater fish and seaweed - highly recommended to try before you buy, because taste preferences of you and the seller may be different.
In China, a lot of souvenirs with pandas - just toys, dishes, coasters, clothing, slippers, pajamas. Very nice gifts for children and is 100% made in China.
Remember that China - a country where you have to smile, be polite to salespeople and gently apply to the product, then your shopping will help you!
Photos of Chinese goods, shops and markets