Skiing in China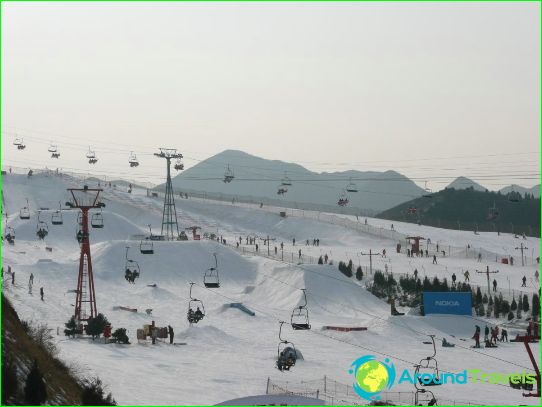 The world is gradually getting used to the fact that the Celestial Empireis ahead of the rest in many ways, including the height of buildings, the number of manufactured goods and a variety of the proposed relaxation. In recent years, China began to successfully compete with the most advanced ski powers, and its slopes and gradually become one of the best. Anyway, in the Eastern Hemisphere.
The equipment and lines
In early November, the ski season startsChina's resort is located on the border with Mongolia. He called Alshan, and excellent snow allows you to ride here until mid-April. Trails Alshana so high quality that it is they are trained athletes of China. Number of slopes in the resort of four, one of them marked "red". Excellent opportunities for recreation and Alshan offers fans of cross-country skis.
The second largest center of Chinese winteris Jingyuetan. It is surrounded by dense forest, which makes the air is especially fresh and healthful. The resort offers excellent conditions for beginners, who try their hand in three short and simple lines. Experienced athletes at the center of Jingyuetan too, is where to turn, one of the longest routes in Asia located here. Another advantage of this resort - affordable prices for ski passes and equipment hire.
A thousand people may visit at a timeChinese Saybah resort, where there are slopes for beginners and advanced athletes. Ten of its slopes guarantee great snow, the quality of which should be snow cannons and ski school instructors will be able to put on the skis, even those who do not believe in their own strength.
Activities and excursions
China All resorts offer guests excellentinfrastructure in ski towns. Hotels are distinguished by a high degree of comfort and entertainment events make a holiday or a vacation is quite rich, not only in sports. Especially felt the Chinese exotica during New Year celebrations on the eastern calendar. At that time, China's ski resorts offer fireworks and festivities, tasting of national dishes and carnivals, theatrical performances and concerts.
Resort Chenbay serving as one of the trainingbases for Chinese athletes, famous for its thermal springs, which are established on the basis of the excellent spa. On China's ski resorts are a variety of events, festivals and celebrations. For example, in December Alshan resort guests enjoy the bright and spectacular festival of "Ice & Snow".
Photos of China ski resorts